Getting Hired at a Ski Shop
Once you've decided that you are heading to the mountains for the ski season, consider looking for a job in a ski shop. It's a great gig if you're into gear or if you want to ski and ride a lot. It's also a wonderful job because you can find ski shop jobs at every single ski area in the world.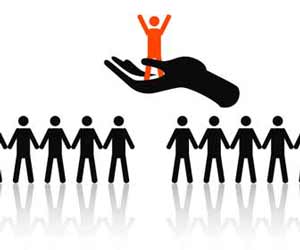 One perk of the job is that ski shop jobs are easily transferable to other ski shops at other resorts, which means after working at a ski shop for a season in Aspen, you'll already have the skills and the resume to be a likely candidate for a job in a ski shop in Park City.
Finding a ski shop job can be challenging. Most employees don't want to give them up. But don't worry. There are always openings somewhere. You just have to be persistent. As long as you have a passion for the sport and the mountains and are determined, you'll be able to find a ski shop job in no time.
Personality
Shop owners have to sift and sort through stacks of applications before each ski season. It's a daunting process, but they want to make sure they pick the right person for the job. After fumbling through resumes, most potential ski shop employees conduct interviews for the job. If you're in town early, it is helpful to apply for a job in person. Managers always like to hire people they have met in person instead of on paper.
Often a personality will land a job before a resume does. Shop owners are looking for young people who are enthusiastic about skiing, snowboarding, and outdoor recreation. The potential employee needs to be a fun loving, happy, guest service oriented person who can create loyal customers and make sales. Plus the owner wants to make sure that his new employee will stay the whole season and isn't just a ski bum. Even though you're in a ski town, this is still a paying job and it isn't something to be taken lightly.
A Ski Shop Resume
No matter what job you're hunting for, you need a resume ready to go. If you have plenty of experience, cater your resume specifically for each job. For ski shops they will look for prior work experience in retail or supervising experience. They may also look for a background in skiing or snowboarding. If you want to tune skis or fit boots, they may search for certifications, courses, or prior experience. Every shop is different, but try to tweak your resume for each job you're applying for.
If it's your first season in the mountains, and you don't yet have the experience you need to be a ski tuner, bootfitter, or a rental technician, then it may be wise to apply for jobs at an apparel shop or a souvenir shop. These shops don't require as much knowledge and skill, but offer many of the same perks. You can also quickly learn the trade by working at a smaller mountain like Ski Cooper before you apply for gigs in Telluride.
Where to Apply
It's important to apply early. If you can, go in and apply in person. Look for ski shop job listings on JobMonkey and also on our Secondary Job Board in the local newspapers, online, and via word of mouth. If you have a particular store you want to work at, be confident and ask the manager if they are hiring.
Work Visas
If you want to work in a ski resort in a foreign country, you must have a work visa. Some shops are owned by the ski resort or some other larger company that have the ability to apply for visas for qualified foreign workers. Finding a job in a foreign country and gaining a work visa can be a challenging process, but totally worth it. Try contacting ski shops and resorts, they may be able to help you with the process.
The ski and snowboard industry is booming, but it would be no where without successful ski and snowboard shops to outfit people in gear so they can enjoy the majestic views, picturesque peaks, and bottomless snow that ski resorts have to offer. If you want to play a role in a ski shop next season, then apply for a ski shop job today.
If you'd rather spend every day working on snow, you must read the next section about ski and snowboard instructors…