On-the-Job: A Ski Tour Guide
Claudia Viviani, originally a skier from Chile, now works as a winter ski guide and physical education program planner for a government agency at Whistler, British Columbia.
I ski guided in France for a couple of years for a British tour company. The purpose was to have a personal program set up for the clients on holiday from England. Besides guiding, I did some instructing in basic ski skills. But I was never sure just how we fit in with the local ski schools.
The same thing goes on in Whistler, but most of the guides are Japanese and work directly for the Japanese tour wholesalers.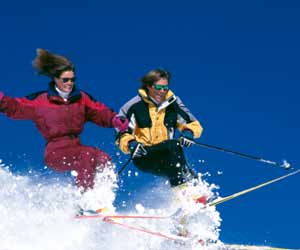 In France I was stationed at Val Thorans, in the Three Valleys. I stayed there all winter and guided for the people who came on tour from England for a week or two. Skiing with them every day was the main thing, but we spent evenings together too. One of my jobs was to teach them how to learn new activities, at least one new sport, so the concept of learning would carry over to skiing. We played squash, hit golf balls on the driving range, played tennis, and swam together. I had to use a lot of sports psychology on people.
So right from the beginning I taught learning skills through sports activities. It was fun, a great way to spend the winter, and the people were really interesting. I worked mostly with British people, and it can take them a while to loosen up, to get into a different mind set.
As for my own skiing, my second year at Val Thorans was one of my best ski seasons ever. The more I taught the clients, the more I learned myself.
— View Ski Tour Guide Job Postings —
Now my job is to promote grassroots development in physical education and physical activity throughout British Columbia. So I'm still pretty active, and I still guide at Whistler for two weeks every winter around Christmas.
In one case, a family from New York hires me for ten days each year during the holidays and we ski both mountains, Whistler and Blackcomb. The family is two parents and four kids, but usually they bring between two and five other families with them from all over the world – Mexico, Israel – for their annual reunion. When it's that many skiers, I make the choices. I may mix two families one day to ski together. It makes their holiday easier and helps the families enjoy their time because "Claudia makes all the decisions."
There's an unwritten rule against privately arranged guiding because it really infringes on the mountain. Plus there's the issue of liability; I wouldn't be covered. Another problem is I wouldn't get a ski pass, and I wouldn't have the ability to cut lift lines. And that, frankly, is one of the things customers like a lot.
I've been guiding for five years. There's no pressure like there is in a regular lesson to teach everything in two hours. We're all together for ten days to just have fun and enjoy the vacation.
To get a start in ski guiding, the best thing is to get certification, either through the Professional Ski Instructors of America (PSIA) or the Canadian Ski Instructors Alliance (CSIA). Then approach tour companies. Guiding jobs are available through wholesale agencies. They are required to have a representative on site. But there may be more opportunities overseas. North American ski resorts are so service-oriented that skiers are well taken care of. But in France, for example, skiers have to fend for themselves. They just have a different mentality there. Individual hotels may be service-oriented, but only as independent services, not in cooperation with the area or the ski company.
Related: Ski Tour Training Video
I used to be a Whistler rep for Adanac Tours (that's Canada spelled backwards, and they've since gone out of business). In addition to guiding and getting the 6am weather report, I'd have to resolve any problems the clients might have, like faulty ski equipment, making dinner reservations, or dealing with people who get sick or injured.
Ski guiding is a good part-time job, and if the company is big, you can do it full time. You're learning skills and having to deal with hotels, reservations, and airlines. You're troubleshooting, putting out fires, and helping injured people go home early.
A ski guide needs a bit of authority in her manner. And the companies are not keen on people who just want to do the skiing. So don't just say you like to ski with people; that's the easy part of the job.