Jobs in Ski Resort Operations and Support
The listings below represent typical jobs that can be obtained on a seasonal basis. You should use this information to help you decide which jobs are appropriate for your background and needs. It's helpful to get an idea what you want to do before traveling to the mountains, but it's best to be as flexible as possible.
Outdoor Jobs
Base Area Workers
Grooming Machinery Operators
Janitorial Staff
Lift Operators/Attendants
Parking Staff
Snowmaker Operators
Indoor Jobs
Lift Ticket Sales Personnel
Food and Beverage Service Staff
Front Desk/Receptionist Personnel
Housekeepers
Child Care Providers
Reservations Clerks
Switchboard Operators
Accounting Personnel
Base Area Workers
Base area employees are mainly responsible for the general maintenance of the base area of the slopes. As an essentially menial job, no special training or experience is usually required. The primary task is the removal of snow from parking lots. In other words, working in this position will probably not impress corporate headhunters or attract a lot of attention from would-be dates, but it will entitle you to all the benefits of employment at a ski resort, including a ski pass. Skiing experience is not necessary, however. A uniform or special gear may be required. Expected pay: Minimum Wage to $14.00 per hour.
Grooming Machinery Operators
Operators maintain slope conditions with snow-grooming machinery, including large snowcat-style vehicles, to ensure that runs are smooth and safe. Many expert hills and terrain used for glade skiing are left in a more natural, ungroomed state, so if a resort has a high percentage of very advanced runs, it may hire fewer groomers. Much of the work may be done at night to keep the slopes open for daytime recreational skiers, so you might work more erratic hours than in other outdoor jobs.
A cat driver who works swing shift at a ski resort tells us about his experiences:
"You have to learn to operate the machinery, but it's really not as hard as some people think. You definitely have to learn the area and know where you're going. Every day is a learning process."
Some resorts require all employees visible to the public to wear uniforms, but night shift workers may be exempt from this policy. Some skiing ability, and perhaps experience with the operation of heavy equipment, will be helpful. Expected pay: Minimum Wage to $17.00 per hour.
— View Ski Resort Job Postings —
Janitorial Staff
Janitorial positions involve cleaning and maintaining the resort grounds excluding the slope itself. Entry-level jobs are geared toward simple manual labor, so no related job experience is required. Expect a lot of snow shoveling. Further up the skill ladder, though, jobs may involve repair work or even minor construction, requiring carpentry, plumbing, or electrical training. Some janitorial work is performed in guest lodging or similar areas, so you may work indoors on occasion. Work may be done at night, and uniforms may be required. Expected pay: Minimum Wage to $13.00 per hour.
Lift Operators/Attendants
These workers assist in loading and unloading skiers from lifts and tows, as well as running the lifts themselves.
The means used to ascend the hill may range from a three-hundred foot, stand-up rope-tow system that appears to date from the mid-nineteenth century to an ultra-modern, high-speed cable car (also known as a funicular). Several former lift attendants have compared the job to operating an amusement park ride. You must check lift tickets, keep lined-up skiers in order, and make sure those entering and exiting the lift area do so safely. Falls may cause injury and slow or stop the system, creating clogs and irritated customers. This job involves a high degree of interaction with people, is ideal for the gregarious, and requires some sort of identifying uniform. Skiing ability is necessary for winter workers; during the summer, lifts are often used to haul mountain bikers uphill. Expected pay: Minimum Wage to $14.00 per hour.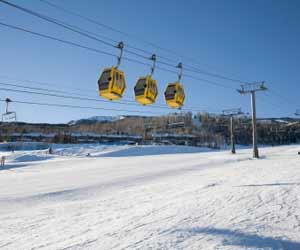 Parking Staff
Employees on the parking staff assist guests with car parking, ski equipment loading and unloading, and the like. Many resorts offer valet service and shuttle service to take guests from lodging to the slopes, so driving may be necessary. This means that only those with valid licenses and good driving records need apply. Uniforms help guests identify employees. Expected pay: Minimum Wage to $12.00 per hour plus tips.
Snowmaker Operations
Employees in these positions may work day or night to maintain adequate skiing conditions. The equipment involved is ponderous and can be moderately dangerous (spraying hoses occasionally loosen, whipping heavy nozzles uncontrollably), so fitness for hiking the slopes and moving the machinery is mandatory. Some states require licenses for this job; check with the resort. At some resorts, nocturnal snowmakers and groomers are referred to as "vampires" by their co-workers. Expected pay: Minimum Wage to $15.00 per hour.
RELATED VIDEO (click play): Making Snow!
Snowmakers!
Lift Ticket Sales Personnel
At most resorts, the selling of lift tickets is not handled by lift operators but by employees who do nothing else. These jobs are found on the mountain, but employees performing the work are usually sheltered, hence their inclusion with indoor jobs. Lift tickets can be sold individually or as a part of a package deal, and many ski areas now have lifts that use electronic point systems to compute costs. Rather than the old method of selling tickets at a flat rate good for unlimited lift rides over a set period of time, the new systems charge by the ride, depending on distance, duration, and even demand. Ticket salespersons must have full knowledge of the benefits and drawbacks of each type of ticket and package and be able to make recommendations to skiers. Some record keeping and accounting of sales figures may also be required. Skiing ability is not crucial, but knowledge of the runs and conditions is. Expected pay: Minimum Wage to $14.00 per hour.
Food and Beverage Service Staff
Depending on the ski area, work here may range from dishing out French fries to flambéeing crepes suzettes?fast food to gourmet. Some resorts offer hot drinks, others prepare homestyle meals in a mountaintop setting, some boast exotic international feasts, and mega-resorts, such as Aspen, have it all. Not all food and beverage jobs are obtained through the resorts themselves, since ski towns are often filled with independent restaurants and bars geared toward tourism.
A ski bum who spent the winter washing dishes at a restaurant in Colorado explained that the job is better than it sounds:
"Dishwashing is not a bad job if you have the right attitude. I didn't have to be at work until six, so it enabled me to ski or snowboard all day."
In whatever capacity you are hired, you may be rotated from place to place to perform different activities. These might include washing dishes, prepping food, cooking, bussing tables, waiting tables, or bartending. Tips will usually supplement your wages in the latter positions.
Previous experience is not essential, but for waiting and bartending positions it is helpful. In rare instances, skis may be required to access certain food service areas, but skiing ability is not generally necessary. Expected pay: Minimum Wage to $12.00 per hour + tips.
Front Desk/Receptionist Personnel
Registering guests into lodging sounds simple, right? Not necessarily. These positions are unquestionably the most important for customer relations. As the first contact guests have with the resort, front desk employees set the stage for the whole ski experience. They must often help guests find their rooms, locate lost luggage, answer seemingly ridiculous questions, and appease fussy visitors. They also act as concierges, directing guests to other resort or area activities while generally trying to fulfill their needs. When someone demands tangerine marmalade and the collected works of Dickens, he or she will usually call the front desk and expect an intelligent response. Uniforms or business attire are always required. Expected pay: Minimum Wage to $15.00 per hour.
Housekeepers
Because cleaning rooms and making beds for other people aren't tasks that carry tremendous prestige in our culture, housekeeping jobs may be easier than others to obtain at many resorts. Be prepared for difficult work, though.
In the words of one housekeeper:
"It can get monotonous and boring, and most people don't want to do it more than one season. You've got to have a sense of humor about it and be able to relate to the people you're working with. That way you can pay attention to something besides the toilets you're cleaning."
Many guests seem to forget the rules of propriety when they stay at hotels, so housekeeping duties usually transcend mere dusting and tidying. Carting mops and buckets around resort grounds and manhandling mattresses while changing sheets are also strenuous, but employees are generally left to themselves much of the time, so you may be able to strap on a pair of headphones and set your own pace. Despite the lack of glamour these jobs carry the benefits of a free ski pass and being able to work independently. Expected pay: Minimum Wage to $17 per hour.
Child Care Providers
Many resorts provide child care for children too young for or not interested in running the slopes. Child care providers are responsible for keeping these children busy and entertained during the day. Kids generally range from infants to preteens. Expected pay: Minimum Wage to $17.50 per hour.
Reservations Clerks
Clerks take customer calls, answer questions, and book reservations for lodging. A full understanding of the resort's offerings is important, as the clerks act as salespersons to some extent. They must remain personable while quickly handling a large volume of calls. Many ski areas use sophisticated computer reservation systems that may be connected to a number of different hotels or resorts, so any experience with either telephones or computers will be helpful. Expected pay: Minimum Wage to $16 per hour.
Switchboard Operators
Those who operate switchboards answer incoming calls, route them to the appropriate departments, and also run internal resort communications. Providing occasional clerical support may also be necessary. Given the remoteness and large size of many ski areas, communication may be handled by radio or walkie-talkie. The hazards of skiing and the propensity for dangerously inclement weather make contact with the outside world critical. Typing, computer, and phone skills are most relevant to switchboard jobs. Expected pay: Minimum Wage to $16 per hour.
Accounting Personnel
These employees keep the books for the resort. Some positions may oversee accounts for particular departments exclusively, such as food and beverage or ski rental, while others track totals for the entire operation. Most resorts offer jobs for "night auditors" who work graveyard shifts to keep track of daily debits and credits. These are positions of great trust and importance, so some level of experience and training will be required. Most first-time accountants tend to start in night audit. Rather than uniforms, business attire is standard. Expected pay: Minimum Wage to $19 per hour.