On-the-Job: Ski Bum in Sun Valley
Shaun McMullin has worked at Idaho's Sun Valley for two years during summer and winter seasons.
I came in October last year and worked as a cook at a restaurant, doing some prep cooking and line cooking. It was a real easy job to get, low paying, but a good job to start off with. I did that for one winter.
My second winter I decided that the dining room is the place to be. There's so much more money there. So I started waiting and bussing tables. We would take home $100 a night, plus $4 an hour, which was really profitable for that area. I'd go into work at 4pm so I'd have the whole day to ski. The dining room is the place to be if you can deal with the people.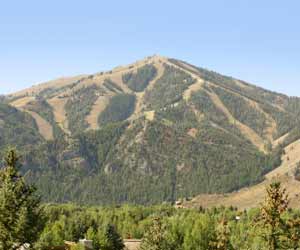 I also did snowmaking for Sun Valley Company which provided me with a ski pass. It turned out great because they didn't make snow all winter, so I wasn't needed. They last day I worked was November 21 and the mountain opened on November 22, so I didn't work at all for them. I was able to keep the pass and as a result I saved $1,000 right there.
It's really important to find the right manager when you get a job at a ski area. Some managers are real strict and will push you around a lot but others are real good. Like in my situation: my manager could have made me turn in my ski pass when he realized he wasn't going to need me. But instead he let me keep it. The benefits of your employment also need to be looked at.
The pay is lower in some types of jobs than others but your benefits can outweigh that.
Personal contacts are the best way to hook up with a job and a place to live. It's really important to have a place to stay for a week or two because it will take a while to find a place of your own. It's critical to pull into town early – a month or two before the season starts is ideal – because when the season starts things go real fast. There's a two-month period before that called "slack ." It's down time when there's no tourism and the only people in town are the locals. That's the best time to pull in. There are a lot of job opportunities, there are a lot of housing opportunities, and there is a lot of turnover in housing. It's a lot easier to get set up then. Because if you arrive in December it's going to be real tough. Ideally you should try to get there sometime in October.
Summers here are bigger than winters, tourist-wise. There are more people who come through town because there are more activities – including some great music festivals, more sports, and more camping. The tourist in the summer is a lot different, though. There isn't a lot of money in their pockets. They are usually campers or fishers or hikers, versus a skier who usually comes in with more money and more readily spends it. In a sense summers provide more tourism but they don't provide as much money, which is what keeps the town going.
It's the influx of money. Without tourism the town would be dead, so you learn to milk it.
— View Ski Resort Job Postings —
The key jobs in summer? If you're a golfer, the golf course is the place to be.
Night work and construction are also huge. It's good pay – you can make $15 an hour or more. If you have certain skills in the construction industry you can do better.
Another big plus is that you get to work outdoors.
Last summer I had a golf maintenance job mowing greens and fairways. It was good work with early hours – we were done by two in the afternoon so we could go out and golf eighteen or thirty-six holes a day for free. It worked real well in terms of my golf game.