Why Work at a Ski Resort?
Working at a ski resort is a dream come true for many people who love to ski. You'll have the chance to live and work among some of the best skiers around and many of those who love the sport as much as you do.
More than likely you'll enjoy a free or subsidized season ski pass, make friends to last a lifetime, and live and work in a beautiful setting. You may be involved in the day-to-day operations of the resort, or you may actually work outside on the mountain. A lot of resorts hire a large number of seasonal workers to teach people to ski, to keep the slopes in top form, to ensure smooth resort operations, and to make sure visitors enjoy their stay. Whatever your job, you are certain to enjoy a winter spent working at a ski area.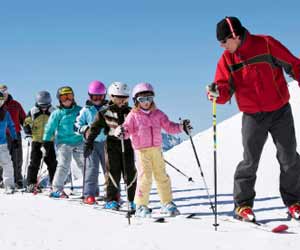 A resort employee who works as a grill cook talks about the rewards:
"It's great fun and there are a lot of cool people out here. It's a lot different life than going to work in the city or going to school."
While you might not gain fame or fortune spending a winter as a ski bum, being prepared can make a big difference in the quality of your experience. In the words of the manager of a major ski area:
"You'll do well if you keep a very open attitude and are prepared to work hard. Don't expect to get rich but do expect to have a lot of fun. You'll have the time of your life."
Working at a ski resort is perfect for those who love to ski, who enjoy meeting people, and are looking for adventure.
One veteran ski area worker sums up why he works where he does:
"Each winter I coach ski racing on the weekends, ski all week at Crested Butte, and wash dishes at night. During the rest of the year I go to school and work. It's an ideal situation because I can ski 100 times a year and still earn a 3.8 grade point average and receive a great education."