Lake Tahoe Ski Resort Jobs
Area Profile
North Lake Tahoe
South Lake Tahoe
Winter Activities (north)
Winter Activities (south)
Summer Activities
Après-ski
Transportation
Housing
Employment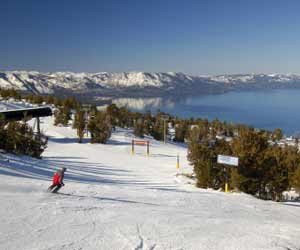 Lake Tahoe Ski Areas
Lake Tahoe Ski Areas (North):
Lake Tahoe Ski areas (South):
Lake Tahoe Ski Resort Overview
Population: Entire Tahoe basin 170,000 (about 56,000 year-round residents); Truckee 16,180; Tahoe City 1,557; South Lake Tahoe 21,403
Road and Weather Conditions: California (800) 427-7623; Nevada (877) 687-6237
Snow Report: (530) 541-8900
Annual Snowfall: 300″-500″
Ski Season: November-May
Northshore Visitors & Convention Bureau: California (800) 468-2463; Nevada (800) 824-6348
Lake Tahoe Information & Reservations: (800) 288-2463
Chamber of Commerce: South Lake Tahoe (530) 541-5255; Incline Village (775) 831-4440; Tahoe City (530) 583-3495; Truckee Chamber of Commerce (530) 587-2757
Average cost 1-bedroom condo/apartment: $400-700
Local Newspapers, Magazines and Websites:
The area around Lake Tahoe comprises possibly the biggest and most popular winter recreation area in North America. Ringing the shores of Lake Tahoe in Nevada and California are no less than eleven major ski resorts which, in addition to being the top ski destinations in California, attract skiers from all over the world. Since so many resorts are in the area, social activities and lodging are not centered in any particular town but are spread out around the lake. The lake itself attracts fishermen, boaters, sailors, and beach bums, and is so large that if emptied, it could cover the entire state of California with fourteen inches of water! We've identified resorts around this giant lake as being either in North Tahoe or South Tahoe, though admittedly some don't quite fit this definition.
— View Lake Tahoe Ski Resort Job Postings —
Major towns in North Lake Tahoe are Tahoe City, Incline Village, and Truckee, which is north of the lake on Interstate 80. The eight resorts in the north part of the lake each have their own characteristics and appeal to a different clientele, but all share in Tahoe's abundant snowfall and diverse recreational opportunities. All three towns in the area are quite small, but resort development has spread enough that lodging and amenities can be found throughout the region. Truckee is less expensive than most of Tahoe due to its location away from the lake and has more of a western feel, and Tahoe City sports a lively nightlife and plenty of tourist shops. The north shore has a smattering of hotels and lodges, with several casinos situated on the Nevada state line near Crystal Bay and Incline Village.
Most activity in South Lake Tahoe takes place in the area called South Shore, which stretches along the south side of the lake from South Lake Tahoe east to Stateline on the Nevada border. The south shore supports three major ski resorts: Kirkwood, Heavenly Mountain Resort, and Sierra-at-Tahoe. Kirkwood lies about forty minutes away from South Lake Tahoe and has a more rustic feel and smaller crowds than Heavenly, which rests right next to South Lake Tahoe and reflects much of the glamour of the nearby casinos. The mountain at Heavenly lies right on the California/Nevada border, and skiers can take runs on either side. Most of Heavenly's guests stay in one of three areas: the casinos over the Nevada border, upscale condos and hotels at the base of the Nevada side of the mountain, or on the California lakeshore in more economical hotels.
Sierra-at-Tahoe is the most family-oriented resort in the area and is about a twenty-minute drive from South Lake Tahoe on Highway 50 near Echo Summit. No lodging is offered at the mountain, so most skiers either commute from Sacramento or the Bay Area or make the short drive from South Lake Tahoe.
Winter Activities (Lake Tahoe North)
Diamond Peak and Mt. Rose lie near the small resort community of Incline Village, which serves as the base area for Diamond Peak. Diamond Peak has a vertical drop of 1,840 feet, mostly intermediate and advanced runs, and regulates the number of tickets sold daily, so it is never overly crowded. Mt. Rose has a 1,800-foot vertical and is a favorite with beginners because of its wide-open runs and lack of congestion.
Squaw Valley (now called Palisades Tahoe), site of the 1960 Winter Olympics, and Alpine Meadows lie near each other on the northwest side of the lake, between Truckee and Tahoe City. Palisades Tahoe is truly world-class in both size and quality. It offers 2,850 vertical feet and twenty-four lifts, and the entire mountain is skiable, thus none of the runs have names. Alpine Meadows is right next door with 2,400 acres of skiing and more rugged, snowy terrain than Squaw Valley. Several kilometers of groomed cross-country trails ring the resorts.
Northstar is a family-oriented ski area southeast of Truckee with many ski-in/ski-out condominiums near its base, and is more isolated and less commercial than most Tahoe resorts. Northstar promises an 80 percent chance of sunshine, 2,280 vertical feet, and 40 kilometers of groomed cross-country trails.
Sugar Bowl, about ten miles west of Truckee, is somewhat isolated from the bustle of Lake Tahoe and most skiers are commuters from Sacramento or the Bay Area. Sugar Bowl has 13 lifts (including 11 chair lifts and one surface lift) and a significant portion of its terrain is for the advanced skier. Nearby Boreal is similar but caters to the beginning and intermediate skier; ask any local Tahoe skier where they learned to ski and odds are it was Boreal. Boreal offers excellent ski school programs and, like Sugar Bowl, is not really a destination resort.
Homewood is smaller than its giant neighbors Squaw Valley and Alpine Meadows, but attracts skiers with a terrific view of Lake Tahoe and shorter lift lines. It also boasts excellent snowboarding and tree skiing on its lightly wooded 1,260 acres, and its base sits right on the shores of Lake Tahoe, about six miles south of Tahoe City.
Winter Activities (Lake Tahoe South)
Kirkwood has a 2,000-foot vertical drop and runs to challenge skiers of any level. Heavenly has 3,500 vertical feet on the California side of the mountain and 2,900 vertical feet on the Nevada side. While Kirkwood is a very good beginner area, Heavenly offers more for intermediates and experts, including Mott Canyon, where the chutes and turns are enough to make the most advanced skiers stop to catch their breath. Heavenly is one of the largest ski resorts in North America, covering twenty square miles.
Sierra-at-Tahoe has improved its ski facilities significantly since changing its name from Sierra Ski Ranch, and has been named one of the ten best snowboarding spots in the country. Located twelve miles west of South Lake Tahoe, Sierra-at-Tahoe now boasts 12 ski lifts, terrain for all abilities, and easy access from Sacramento and the Bay Area.
Cross-country skiers can enjoy a number of groomed trails, and ice skating, sledding, and snowmobiling, and are all popular around South Lake Tahoe in the winter.
Lake Tahoe attracts almost as many visitors in the summer as during ski season. The lake itself is the focus of much of the summer activity, and is ideal for sailing, waterskiing, boat tours, and parasailing. Mountain biking is a very popular activity near the lake. For every mile of paved Tahoe area roads, there are five miles of unpaved biking trails. Lakeview Cross Country trail in Tahoe City and the North Tahoe Regional Park in Tahoe Vista are popular beginner trails, but the most popular Tahoe mountain bike trail is The Flume Trail near Incline Village, which offers great riding with spectacular scenery. Squaw Valley and Northstar-at-Tahoe both run chairlifts in the summer for mountain bikers, and several other ski areas allow summer biking. Call the Tahoe North Visitors Bureau for a free mountain biking brochure.
Timber Cove Marina on the south shore is the leader in powerboat, windsurfing, paddle boat, and canoe rentals. Lunch and dinner cruises on the Tahoe Queen depart daily and include dancing, live music, and entertainment.
Towns in the north Lake Tahoe area are quite small, and a lot of evening activity is centered at ski resorts such as Palisades Tahoe (formerly Squaw Valley), which boasts a sizable village at the base of the mountain. Outside the resorts, the main nightlife centers around the North Shore area. The casinos are nonstop hubs for entertainment and celebrity shows. Try the Cal-Neva Lodge of Marilyn Monroe and Frank Sinatra fame, the Crystal Bay Club, or the Hyatt Regency. There are many expensive country clubs and restaurants around the lake, but Tahoe City and Truckee have less expensive places to eat and the casinos always offer specials.
Tahoe City is the most popular town on the California side for the bar and nightclub crowd and really hops on most winter evenings. Truckee is quieter but still offers some small bars.
The south shore is home to the largest casinos in Tahoe: Harvey's, Harrah's Hard Rock Hotel & Casino and Montbleu Resort Casino, which show off endless slot machines and neon. Top-name performers appear regularly. For a mellow evening, stay at the base of Heavenly and enjoy the warmth of a fireplace and good drinks. Turtles in Embassy Suites is a good place to meet and dance. There are many restaurants in the area, including The Summit at Harrah's and The Sage Room at Harvey's. For more reasonable rates, check out the many Mexican, Cajun, seafood, and Italian places close by.
The major airport for Lake Tahoe ski resorts is in Reno and is served by most major airlines. The airport is forty-five miles from Palisades Tahoe, fifty miles from Alpine Meadows, thirty-eight miles from Northstar-at-Tahoe, fifty-five miles from Heavenly, seventy miles from Kirkwood, forty-eight miles from Sugar Bowl, and forty-two miles from Diamond Peak. Skiers can also fly into Sacramento or South Lake Tahoe.
Bus service from Reno to Truckee is available through Greyhound for $13 one way (there are five trips daily). Shuttle buses run between Tahoe resorts, hotels, Tahoe City, and Truckee. The TART (Tahoe Area Regional Transit) public bus system connects all the resorts on the north and west shores of the lake. A ski shuttle runs from Reno to the ski areas and casinos around the lake. Fares range from free to $5.00. The Tahoe information line has schedule and destination information.
Most ski areas offer some housing to employees, but many workers choose to live in rentals in Tahoe City, Truckee, the North Shore, or South Lake Tahoe. Check websites and local newspapers for room and shared housing rentals in Truckee and Tahoe City.
Lake Tahoe Ski Resort Employment
With the many ski resorts, summer recreation facilities, and casinos near Tahoe and the comparatively small population, jobs are fairly easy to come by. Ski resorts and casinos are the largest employers in the area, and in the summer many employees work at local marinas, restaurants, bars, and golf courses.
FEATURED LAKE TAHOE EMPLOYERS
Winter Employment – Diamond Peak Ski Resort
Summer Employment – Incline Village Summer Jobs