Getting a Ski Area Job
For many ski bums, where they work is as important as what they do. Ski areas such as Aspen and Vail tend to have name recognition, excellent skiing conditions, and provide the opportunity to rub elbows with the rich and famous.
Ah, but there's a challenge: they also draw large numbers of applicants and have a high cost of living.
It's important to keep in mind that the more famous the area, the more expensive and difficult to find a job and a place to live.
Be sure to consider factors like cost-of-living and remoteness as well as reputation and terrain when deciding where to look for work.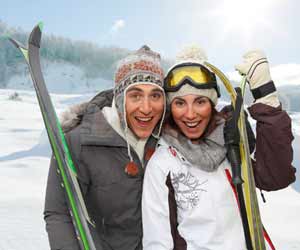 Global Opportunities
Just because spring melt comes to North America doesn't mean you must stash your skis in the garage for the next nine months. Summer in North America means winter in New Zealand, Australia, and South America. Ski bums who can't bear the thought of putting away their skis for the summer have been known to pack their bags and head for the slopes in these countries. Of course, opportunities exist outside North America during the winter as well. Ski resorts around the world must keep their mountains running smoothly, and sometimes the supply of workers doesn't meet the demand in the countries of Europe and in Japan.
Often Americans or Canadians who get jobs in other countries are sponsored by North American ski companies. In order to get a work permit in many countries, foreign workers sometimes must prove that they have skills not available in the local work force.
— View Ski Area Job Postings —
Sponsorship can help break down those barriers.
One American who worked as a ski instructor in Australia said sponsorship by a U.S. company "eased the paperwork" when it came to applying for a work permit.
Sometimes the demand for less skilled workers – especially for area support jobs – outweighs the supply, and foreign workers have no trouble getting work, as in the case of one American who found a job at a ski lodge in Kitzbühel, Austria.
"There were more Americans and Australians wandering the streets looking for jobs than there were Austrians. Getting a work permit wasn't an issue because so many workers were needed."
Those interested in working at foreign ski resorts should contact the consulate for that country to inquire about work permit requirements. Some countries also have ski area associations similar to what exists in North America. You might try contacting the following:
Ski Associations and Organizations
Ski Areas Association of New Zealand
PO Box 27-501
Wellington, New Zealand
(4) 382-9055
Swedish Lift Areas Organization
Box 582
S-831 27 Ostersund
Sweden
(6) 313-2395
Australian Ski Association
Olympic Park Swan Street
Melbourne, Victoria 3004
Australia
(3) 429-8066
Spanish Winter Sports Federation
Santa Maria Theresa 14
28016 Madrid
Spain
(1) 344-0944
Sportsman Gallery
7011 Yomase, Yamanouchi-Machi
Shimo Takai-Gun 381-04
Japan
(269) 33-2570
Swiss Ski Association
Worbstrasse 52
3074 Muri, BE
Switzerland
(31) 950-6111
Sport Information Dienst
Hammfelddamm 10
41460 Neuss
Germany
(2131) 13100
Oesterreichischer Berufsschilehrerverband
A-6752 Dalaas 88
Austria
Federazion Italiana Sport Invernali
Via Piranesi 44/B
Milano 20137, Italy
(2) 75731
Federacion de Ski de Chile
Av. Vicuna Mackenna No. 40
Santiago, Chile
(2) 222-8733