Ski Resort Employment Overview
By Matt Krumrie
JobMonkey.com
Ski resorts offer a wonderful winter getaway for the many tourists who are looking for a memorable vacation. They also offer many unique employment opportunities for job seekers looking for something outside the cube.
Brittany Clelan, the director of human resources for Northstar-at-Tahoe Resort in Lake Tahoe, California, recently discussed the various jobs, offered tips on how to land these jobs and insight on what it takes to succeed working at a ski resort like Northstar-at-Tahoe or Diamond Peak Ski Resort.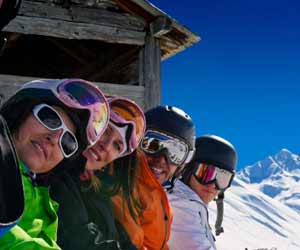 What are some of the various jobs at a ski resort and how many people does the ski resorts you work with employ during busy season?
Clelan: During peak season we have 1,600 people on staff. Positions range from lift operators, rental technicians, snow reporters, food and beverage personnel, retail, parking attendants, rink operators, grounds staff, ticket sellers, day care attendants – pretty much the same jobs as an amusement park. We are looking for employees that genuinely want to share a good day with the guests.
What is the biggest need at a ski resort during busy season?
Clelan: They biggest need is for ski instructors as we experience an increase in lessons for kids during that time. We hire and employ 50 weekend/holiday only instructors to handle the peak periods.
When is the best time to start applying for employment at a ski resort?
Clelan: Each year we see an increase in application flow in August/September. Not all the managers are on staff to respond, but more managers are responding to applicants and hiring pre-job fair than ever before.
Examples: Ski patrol, tickets in rentals, and transportation have been interviewing since August and they will not need to go to the resort's job fair.
If I am a ski instructor and want to work at a ski resort, what are the skills and background I need to have to show I am the right person for this job?
Clelan: The desire to work with kids, great communication skills, ability to organize and keep the attention of 6-8 people in a group, intermediate skiing ability, and the ability to stand on your feet for 6 hours in a day, ski and lift up to 25 pounds. It is a very physical job and requires upbeat, positive attitudes.
When interviewing for a job as a ski instructor what can the applicant do to impress the employer and show they are the right person for the job?
Clelan: The most important skill they can show is their personality. We want people who have outgoing personalities that demonstrate confidence to teach lessons. We hire people who demonstrate professionalism as well as fun.
Need Snowsports Instructor Training/Certification?
Check out EA Ski and Snowboard
Other than experience in their respective field/job, what is the key to success working at a ski resort? What traits are needed in this industry?
Clelan: Flexibility. We have so many variables in our business that employees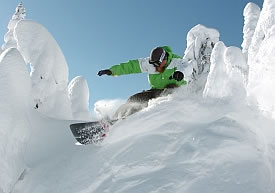 need to be able to adapt to the weather, the business volume, all of which change on a day-to-day basis.
The other trait they need is a fun, outgoing personality that enjoys talking and helping our guests.
Most of our employees are "front of house" and handle guests directly, so we hire people that can look for ways to create a good day for our guests.
What are some unique things that make the job more appealing, that people might not know about?
Clelan: I think it is the people they get to meet and work with that make the resort industry appealing. All of our employees seem to come for the same reason – to meet people, to have fun on the mountain, and to live in a cool community. That is what makes our jobs appealing – no cubes, lots of fresh air.
What is a typical day like for a worker at a ski resort?
Clelan: Most jobs start at 7:30 a.m. Lifts open at 8:30 a.m. or 9 a.m, so all positions have some set up required to make sure we are ready for our guests. Many of them have line queues to organize, or phones to answers before the doors open, then the guests start arriving and they work until the middle of the day. Breaks are 30 minutes and they return to their post. By 4 p.m. the lifts close and there is an end of the day rush for some departments.
Here is some more information on specific positions:
Lifts: They clear the lifts, load people, and make sure safety is their primary concern
Food and Beverage: They have a later start time, but they get hit the hardest at lunch. Cleanliness is their biggest concern and providing good quality food.
Tickets: They have high volume first thing in the morning and a break between 1:00pm until 3:00pm.
What other unique items/tips/tidbits or information can you provide that would educate job seekers about working at a ski resort?
Clelan: Come with a passion for guest service, and be flexible regarding your schedule and expectations. You won't make a lot of money but you will have a lot of fun and you will meet some great people!