Working in Resort Operations and Support Jobs
The ski industry is booming. Skiing and snowboarding are popular ways to get outdoors in the winter. Flying down towering mountains strapped to your equipment gives you a feeling of freedom, a taste of nature, and a rush of adrenaline.
Think about the last time you went to the local hill to escape the sounds of the city and thrive in the winter wonderland of your favorite ski hill. How many people who work at the resort did you encounter? Most likely it was a lot. Ski resorts need hundreds, if not thousands, of employees to operate the mountain. Lifts must run. Food must be prepared. Trails must be groomed. Ski shops must be open. Hotels must be full. Everything must be clean. It takes a lot of work. And a lot of people like you to get the job done.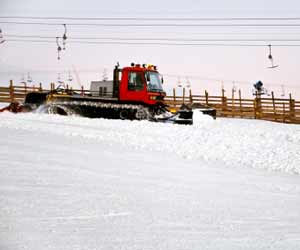 Ski resorts are constantly struggling to set themselves above the competition by providing better operations – more runs, faster lifts, shorter waits, finer dining, and full-service hospitality. These are the things that keep guests coming back season after season. Those guests are the reason that you can live and work at a ski resort. The ski industry offers people who share a passion for snow sports to live the mountain lifestyle in exchange for working in ski resort operations.
Resort Operations Jobs
Take a minute and see how many ski resort operational jobs you can think of. Who are the people that make the mountain tick? What do those people do? How do they make your ski holiday an experience to remember (even if you don't remember them)?
There are plenty of cool employment opportunities at ski resorts. Some jobs are obvious and other jobs work behind the scenes. Different resorts have different positions, but overall ski resorts operate very similarly. Take a look at a few of the jobs that every ski resort needs…
— View Ski Resort Job Postings —
Jobs On the Mountain
Snowcat Operators and Groomers use large machines to maintain the runs and terrain
Lift Mechanics make sure the chair lifts operate so we can ride to the top after each run
Ticket Sales sell lift passes so people can access the mountain
Ticket Scanners verify the lift tickets at each chairlift
Parking Attendants direct people to the best parking available
Food and Beverage Workers cook and serve the food that is available at the on-mountain restaurants
Ski School Instructors teach ski, snowboard, and adaptive lessons to children and adults in group and private lessons
Ski Patrol spend the day keeping the mountain and the guests safe
Information People answer questions and give directions to guests
Janitors clean and pick up trash so that the natural environment is attractive and sanitary
Jobs Around The Resort
Bartenders serve and mix drinks at restaurants, bars, and après ski events
Waitresses keep guests happy by serving food
Concierges help guests get what they need while staying at their hotel
Housekeepers clean and tidy hotel rooms and apartments
Ski Shop Workers sell skis, souvenirs, clothing, and everything else you need to enjoy the slopes
Ski Tuners prepare skis and snowboards for best performance
Bootfitters make ski boots more comfortable and ensure they perform well
Dishwashers clean dishes and ski a lot!
There are countless resumes around the world that have ski jobs listed on them. Spending a season or two, or three, or even a lifetime is a wonderful experience. It's great for people who love the mountains and the outdoor lifestyle. The downside of working at a ski resort is that the job sometimes only lasts for a season and the pay is low – $10 to $15 per hour.
Job Outlook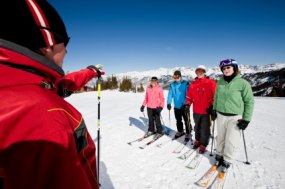 Many people stick around ski towns for years. Other people spend a season and move on to what their parents call the "real world." But regardless of how much employee turnover a ski resort has between each season, they still have to fill every single job to maintain an efficient, high-quality resort. The guests expect it and the resort thrives from it.
The human resource department is always looking for applications before, during, and after the season. It's constant work to keep the mountain staffed and operating. There are winter operations and often summer operations. The seasonal work is challenging and the physically active jobs don't pay as well as those in a cubicle, but working in a ski resort is all about the lifestyle.
Each winter thousands of eager, excited, smiling faces show up at ski resorts to work in a winter paradise. If you think you're the type of person who wants to spend next year on snow, be sure to read this entire guide.