Winter Sports Industry Overview
Winter is one of the most spectacular seasons of the year. It's a time when snow falls and beckons people to head to the mountains to work in magical ski resorts.
Imagine trading in your cubicle, textbook, business suit, or dead end job for an unforgettable snowy season, or even for a lifetime in the mountains…
Spending a winter in paradise is a life changing experience. The mountains offer fun seasonal work opportunities during a gap year before entering the "real world, " as a respected profession, or as a sweet retirement gig. Beware when you choose to work in a ski resort for one season it can quickly turn into a decade or a lifetime of fun. It's easy to become addicted to the laid back, outdoors focused, mountain lifestyle. Once you have the taste for working at a ski resort, it's hard to go back to anything else.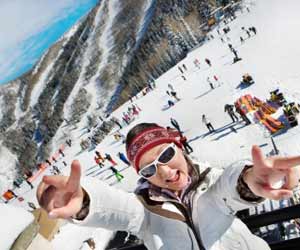 When your office is nestled in the mountains and surrounded by spectacular views, you'll know you've picked an incredible job. Everyone who works at a ski resort is there for one super cool purpose – to have a job that allows them to ski or ride as much as they possibly can.
FEATURED VIDEO: A Day in the Life of a Lifty
If you enjoy the feeling of freedom when you cruise down the slopes, wipe powder off of your face, zig through trees, huck big cliffs, or hit giant jumps, then there is really no question what you need to do with your life – get a job in a ski town! Next time you find yourself sitting in your cubicle daydreaming about your next ski vacation or rereading this guide, why not choose to make skiing or snowboarding your life…
The following pages will help you learn more about this exciting, action oriented industry and will explore jobs in the ski industry.
— View Ski Resort Job Postings —
What Jobs Can You Do In A Ski Resort?
Ski resorts rely on solid, hard working, snow-loving employees to make sure that the resort runs smoothly. Every season thousands of people head to the slopes to find jobs that allow them to ski and ride. All you have to do is decide what type of job you would like to do. Do you want to work full-time, part-time, or just over the holidays? Take a look at some of these gigs that every ski resort must have.
Ski Instructor or Snowboard Instructor Jobs
…and there are many more positions.
See any that you're interested in? All of these gigs are better than working in a cubicle. All you have to do is find a job and mountain that you want to call home for the season and apply. You can do it right now.
Ski Resorts Are Everywhere
Next time you're flicking through your favorite ski or snowboard magazine, take a look at how many ski resorts are out there. There are hundreds of them scattered all over the world. It can be a challenge to decide what mountain you want to work at.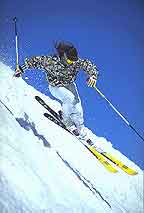 No matter where you choose, you'll get to ski, but each resort is unique.
You may want to work close to home. Or maybe you want to head out west? Some people like to play at the big name resorts, while others head to challenging mountains without crowds. It's up to you to find a resort, where you like the vibe and can make a living.
You might end up at one of these… Copper, Palisades Tahoe (formerly Squaw Valley), Stowe, Alta, Whistler, Vail, Aspen, Telluride, Jackson Hole, Whitefish, Taos, Keystone, Breckenridge, Snowbird, Park City, The Canyons, Beaver Creek, Deer Valley, Boyne, Snoqualmie, Mount Hood, Mount Baker, Heavenly, Mammoth, Brandywine, or Buck Hill. If you're not sure what mountain is best for you, read about ski resort employers later in this guide. Remember that wherever there's snow, you'll have fun. And when you're having fun and getting paid, little else matters.
The Ideal Job
Ski resort jobs are ideal for anyone looking for temporary employment. Ski resorts only operate while the snow safely blankets the mountains, usually from November to April in the Northern hemisphere, but a few resorts operate all year long. Most ski industry gigs allow you to ski a lot, and typically supply employees with free ski passes, discounted gear, cheap foods, and other sweet benefits.
The following pages will help you discover the ins and outs of the ski industry and the jobs that might be on your resume soon. Start by finding out what skills you'll need to work in the ski industry…