Job Outlook for Instructors
Only about 6 percent of the 285 million people in the United States ski, and of those, only about 10 percent take instruction. Nonetheless, the recreation business on the whole is booming, and skiing and snowboarding are no exception.
Some say it will become more difficult to get ski instructor positions in the future. With more people hoping to make a living doing what they love, increased competition could mean more stringent hiring practices. Many resorts will begin requiring training or previous teaching experience.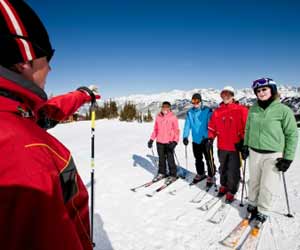 As it is, the number of ski instructor opportunities varies annually. Some years a resort may hire more instructors than are needed because the previous year it was flooded with requests for lessons. Other years it may seem like no one is hiring new instructors. In general, once you have worked for a resort you'll have a better chance of getting hired again. This way, ski areas don't have to train as many new recruits to conform to their method of instruction.
— View Ski Resort Job Postings —
Snowboard instruction has the same certification levels and pay scales as ski instruction, and it is regulated by the same governing body. The only major difference is the technical aspect of what is taught. More people are attempting to learn snowboarding than ever before, so there are certain to be more opportunities for instructors.
Boarding definitely has a growing clientele but it's a younger one. One issue to consider when deciding whether to teach skiing or snowboarding is that most people who take snowboard lessons are beginners, so as an instructor you're probably going to spend a lot of time on the bunny slopes. There are very few advanced snowboard classes. For the most part, once people learn how to snowboard they just want to go out and have fun. So for someone who's already a ski instructor, switching to snowboarding doesn't have enormous benefits.
Need Snowsports Instructor Training/Certification?
Check out EA Ski and Snowboard
But if you have never taught either discipline before, it makes sense to start with snowboarding. It may be easier to get hired as a snowboard instructor because there is less competition for jobs and so far the industry is not strictly regulated. There are only a certain number of people out there who teach snowboarding, so you're going to be dealing with a smaller, tighter-knit group of instructors.
With its emphasis on leadership, communication, and guest services, instruction is a good place to launch into the industry at large. Instructors who stick with the profession often move on to supervise other instructors as ski school directors. Many area managers and marketing directors began their careers as instructors in their youth.