Other Niches for Ski and Snowboard Instructors
Snow sports instruction is a huge industry. It employs thousands of people who love to share their passions with the millions of people who visit ski areas each year. Snow sports are recreational activities that all sorts of people enjoy. Some love it for the thrill, others for the view, some for the social atmosphere, and still more for the outdoor environment. This vast appeal makes the ski industry exciting and appealing.
At its core, the ski industry will always have the same focus – enjoying the great outdoors. In the last few decades, things have changed drastically. Snowboarding took the world by storm. Equipment technology has improved vastly allowing anyone to carve a turn or float through powder. Now it's easier than ever.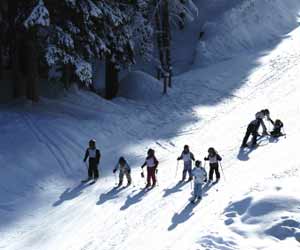 It's up to snow sports instructors to help people realize the snow's potential. It is incredible how much can be done on snow – snowboarding, skiing, telemark, adaptive, freestyle. Versatile and athletic instructors can focus on one niche or excel in several. What adventure are you going to choose?
Instructing Niches
Skilled instructors often teach more than one type of snow sport. Being versatile helps increase your workload. It allows you to take more lessons with more variety, which also ensures you won't get burnt out. By diversifying his skills, an instructor can open up more doors and more opportunities. Plus being flexible and talented usually means a higher pay grade.
Take a look at some of the niches that are popular in the ski industry. Where do you want to start your instructing career?
Alpine Skiing – This is by far the most popular snow sport. Alpine skiing is a worldwide phenomenon and people love it. It is the easiest sport for children to learn and it is most likely the sport that adults have chosen and stuck with. No question, alpine instructors get the most work and typically earn the best paychecks.
Snowboarding – Snowboarding is a relatively new sport and may someday pass alpine skiing in popularity. Snowboarding appeals to all ages, but it is primarily a younger generation that straps on boards each day.
Telemark Skiing – Many people are trending towards telemark skiing, but very few actually take lessons. It is quite popular with backcountry skiers and people looking for a comfortable boot.
Nordic Skiing – Leisurely chairlift rides and breathtaking downhill turns aren't for everyone. Many people enjoy the cardiovascular workout of cross-country skiing – a niche that needs instructors.
Adaptive – Working with people who are disabled is possibly the most rewarding type of instructing. Using specialized equipment to teach people with learning and physical disabilities is an awesome way to share your passion for snow sports.
Freestyle – If you love the park, there is work for you as a ski or snowboard instructor. The terrain park is a relatively new niche in the industry. Giving tips and demos on halfpipes, rails, boxes, jumps, and other features is a blast.
PSIA-AASI
PSIA and AASI offer instructors the opportunity to diversify their skills and become the best. These organizations have worked hard to perfect the skills and techniques used to teach snow sports efficiently and effectively. Their certification processes develop instructors into finely tuned teaching machines.
Level III certification is currently the highest standardized step within PSIA's developmental system. Instructors wanting more involvement within their division or nationally can aspire to continue up the PSIA-AASI ladder. Some of those opportunities are…
Trainers – Trainers, sometimes called Divisional Clinic Leaders, are qualified to teach and give clinics. It is a huge stepping-stone towards becoming an Examiner.
Examiners – There are several levels of examiners. They test people on their skiing, movement analysis, and instructing at each accreditation and certification level.
Demo Teams – These are the picture perfect skiers. These elite skiers and snowboarders are hand picked for resort, regional, and national demo teams to show people what the cream of the crop can do on the snow.
National Demo Team – This elite group of instructors are the best in the US and show off their talents nationally and internationally.
Interski – Every four years, the National Demo Team meets with other country's official ski schools organizations to share ideas, display their skills, mingle, and of course go skiing.
Other Opportunities
Management – After several seasons, some ski instructors make the smooth transition into ski school management for a change of pace and a consistent paycheck.
For a snow-loving instructor there are many opportunities that present themselves. Some are based on your skills, talents, and interests – others on being in the right place at the right time. A versatile, diverse, talented instructor will never get bored working in this vast industry.