Introduction: Ski Tour Guide Jobs
Ski resorts can be huge. With vast acreages of untamed mountainous terrain, how do people know where to go and what to do? The ski area is full of tree runs, groomers, cliffs, parks, and steeps. Greens, blues, blacks, double blacks, and more. And what will you do after the lifts close? What restaurants serve the best food? What bars host live music? Resorts can be foreign places in far away lands. A ski tour guide will make a vacation run smoothly.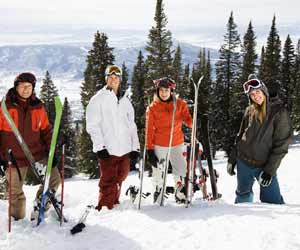 Ski tour guides help guests enjoy the five-star treatment. Their basic job is to show guests the best possible time on snow, but also to make sure the guests know where to go and what to do after the ski day. Their job can last from a few hours to several weeks – it depends on how long the client's holiday lasts. Top-notch guides are in high demand, even though ski instructors serve a similar purpose.
Why Hire A Ski Tour Guide?
When guests show up at a new ski area, they want to explore and have fun. Guides can make this happen safely. Whether a guest wants to overcome a language barrier, skip lift lines, learn the mountain, avoid certain terrain, meet other people, get some ski improvement pointers, or have someone fix equipment problems, make spa reservations, or know the weather – a ski tour guide can do it all.
— View Ski Tour Guide Job Postings —
Guides do a variety of things like recommend places to eat, point out good skiing spots for any ability level, suggest hot spots for après or nightlife, show people where the best snow is located, or, in some cases, take people out of bounds.
Not only do guides show people a good time, but they ooze customer service. A high-end ski tour guide deals with groups of people and must cater to everyone's needs. It can be challenging to keep everyone in a group happy, comfortable, and social, but a ski tour guide does it with a smile on her face.
What Does A Guide Do?
Guides are different at every resort. Many ski tour guides work for major tourism companies or adventure tourism operators that are sanctioned by the resort to act as licensed ambassadors. In some cases, like Whistler Blackcomb in British Columbia, guides can rise from the ranks of ski instructor to guide status. There are 40 to 45 guides at Whistler Blackcomb working for Ski Esprit, a special Dual Mountain program that provides guides and instructors.
Often, ski and snowboard guides work for large travel outfitters or group travel agencies. In those cases the guides live at the resort, meet incoming groups, and act as the tour company's representative. Sometimes guides work with tourism groups that organize large trips from foreign countries like England, Japan, Australia, or Germany to resorts in Europe and Canada. This way when guests book a trip, a guide is included who can make them feel at home, but also give them the local experience.
Different Types of Guides
People always enjoy a guided experience. It takes the pressure off and they don't have to make any decisions. They just follow the guide and enjoy the mountains, the snow, and the ski area. Guides go by different names at different resorts, so ask around to find out what types of guides are available where you ski.
Sometimes ski areas offer free guided mountain tours to guests to make them feel welcome and at home. Other resorts have gnarly terrain that can only be skied if you are with a certified instructor or guide. Sometimes the ski school will utilize a ski or snowboard instructor as the best guiding option for people. In a small percentage of resorts, certified mountain guides are allowed to take people beyond the ski area boundaries to experience the backcountry.
A guided experience can last a few hours or for an entire holiday. The services a guide provides depends on the guest, but it is always important to make sure the guest has a blast. Be sure to show them around the mountain and the town, but also be sure to show them what they want to see. Just be sure to do it safely.
Guiding is challenging, competitive work, where skiing skills are just as important as guest service and resort knowledge. If you can manage people and want to be a ski tour guide, chat with different guiding operations, ski tour operators, adventure tourism groups, and ski resorts to see what they offer and what they require for the job.
Keep reading to learn more about the exciting ski tour guide industry…