Lockheed Martin Jobs and Internships
Lockheed Martin is an aerospace, defense and security company. In 2022, it was the largest defense contractor in the world by revenue.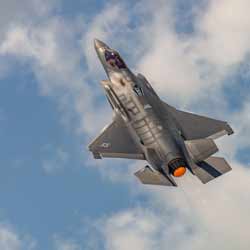 The majority of the company's sales are made to the United States Department of Defense and other government departments and agencies. According to figures for 2023, Lockheed Martin earned nearly $67.4 billion.
Lockheed Martin was formed in March of 1995, when Lockheed Corporation and Martin Marietta merged. Divisions of the two companies that were not included in the merger formed a new company, L-3 Communications. Lockheed Martin employs approximately 133,000 people.
Working at Lockheed Martin
The benefits package offered to workers at Lockheed Martin vary by geographic region and whether the employee is represented by a union or not. The company offers the following types of benefits to employees:
Business Travel Accident Insurance
Dental Coverage
Disability Coverage
Health Care and Dependent Spending Accounts
Long Term Disability Insurance
Medical Insurance
Special Accident Insurance
Tobacco Cessation Plan
Vision Coverage
Types of Jobs Available at Lockheed Martin
Here are some examples of the types of jobs that may be offered by Lockheed Martin:
Database Architect
Electrical Engineer
Graphic Artist
Hardware Engineer
Intelligence Analyst
Medical Assistant
Nurse Practitioner
Pilot Instructor
Satellite Systems Engineer
Internships and Co-ops at Lockheed Martin
Students who are enrolled in a program at an accredited college or university are invited to apply for current Lockheed Martin internships and co-op postions. Those individuals accepted into the program are given work that relates to their area of study. People majoring in these programs may be considered for internships and/or co-op placement with Lockheed Martin:
Accounting
Business
Economics
Engineering
Finance
Human Resources
Mathematics
Physics
The company offers competitive wages and flexible work schedules to its interns and co-op students. These programs also allow participants to make contacts that may be helpful to them in future endeavors, whether they are hired for a full-time job with Lockheed Martin or not.
How to Apply for a Job at Lockheed Martin
The first place to start when looking for a job at Lockheed Martin is to visit the Careers page on the company website. Job seekers can look for openings by location, whether the job is on site or virtual, by job category, and the level of security clearance required. Click on the job title to see a job description, along with a list of skills required. Prospective Lockheed Martin employees can apply online, save the job, see a list of similar jobs or e-mail the information to a friend.