Airline Frequent Flyer Agent
Almost all major airlines, and many smaller ones, have frequent flyer or awards programs for their travelers. Such programs are a great way for the airlines to create a solid clientele base, since the more you travel on the same airline, the more "miles" you accumulate to trade in for perks, which typically feature free tickets or upgrades.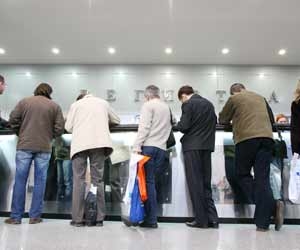 The popularity of these programs has created this relatively new position in the airline industry – called an airline frequent flyer agent. This is a good starting job for entry-level applicants who plan on moving up in the airline industry.
Government agencies, such as the Bureau of Labor Statistics, predict that there will be a rather large increase in the number of flying passengers in the near future – until at least 2018. For airlines, this means that there is a greater need to handle frequent flyer customers at their own desk, enabling people to move through the lines at the airport faster.
Job Responsibilities
Frequent flyer agents work at customer service centers, providing information to frequent flyer members and to potential members. Heavy phone support accounts for about 60 to 70 percent of the job, with the rest involving paperwork, such as reading correspondence or redeeming awards. Others work in the main terminal lobby at the desk, handling just those passengers that are frequent flyers.
Did You Know? Each year, 747s carry more passengers than the entire population of Germany.
Their main task is to provide assistance to those who are frequent flyer members, or to those who want to join the airline's frequent flyer's program. They verify that a client has sufficient points to get a free flight, or a discount from the normal cost of a ticket. They will also verify whether or not frequent flyer miles can be used on a particular date and flight. If an upgrade should be needed, they will check to see if there are seats available. Then, after the upgrade has been paid for, a new ticket will be issued. New tickets will also be issued for future dates, or if a customer has missed a flight and needs to make new arrangements.
Job Requirements
The requirements for an airline frequent flyer agent are rather simple – since this is an entry level position. Candidates need to be at least 18 years old and have a H.S. Diploma or a GED. Having good people skills is necessary for the job, and if you have a background in some kind of customer service this will help you even more. Being able to lift luggage may also be necessary, possibly up to 75 pounds. Being able to use a computer is also important.
Being friendly to customers is a major part of the job – even if they are irate. You will need to have excellent listening skills, as well as being able to communicate answers with good information. Speaking clearly is important, and being able to speak one or two foreign languages will be highly beneficial, especially in larger airports. You will also need to wear the uniform of the airline, and have good personal grooming habits.
Training and Degrees
Any training that is needed for a frequent flyer agent will be provided for by the particular airline you work for. Training may be at the airport, but could also be at a training center of the airline. You will be trained to know how to work the computer system, how to deal with people and their questions or issues.
It will be necessary to pass a background investigation to work at an airport, and this could go back as far as ten years – or more. A drug test will also be given.
Salary and Benefits
The benefits you will receive are more or less standardized – especially if ticket agents are unionized. You can expect to receive benefits such as medical, dental, and vision insurance, vacation pay, a retirement plan, possibly long-care coverage, and more. Discounted travel may also be included, and some airlines may offer stock options.
The starting salary for an airline frequent flyer agent is approximately minimum wage to $14 per hour, and the more customer service experience you have will mean more pay. There are opportunities for advancement from this position.
Quick Summary of Airline Frequent Flyer Agent Employment:
A frequent flyer agent position is an entry level job and has only a few requirements.
You may qualify if you are 18 or older with a H.S. diploma or GED, and have some customer service experience.
The airline will provide needed training – possibly while on the job.
There are opportunities for advancement from this position.