Airline Gate Agent Jobs
When passengers are ready to walk onto the plane for their next flight, it is the job of the airline gate agent to ensure that their needs and questions are taken care of as smoothly as possible. As people travel, they enjoy the help of a friendly face and a helpful assist, if needed. The airport may be totally unfamiliar to them, and someone who can answer questions that are up-to-the-minute are sure to be appreciated and will enable them to have a more pleasant time while en route to their destination.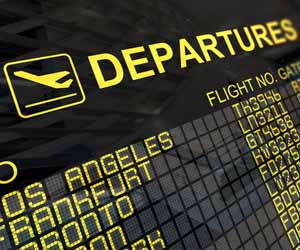 The Bureau of Labor Statistics expects the number of commercial air passengers to greatly increase in the next few years. As this happens, it will ensure that there will be a continuing need for airline gate agents. Those in this field who perform well can expect to move up to higher positions and better pay.
Responsibilities of Airline Gate Agents
Airline gate agents are responsible to help ensure that passengers get the help and assistance they need to make their flight more enjoyable. They will help the disabled, the elderly, children, and others to be able to get on the right plane and into the right seat. These agents also make sure that the right passengers get on board the plane, by taking their tickets and checking their names on a master list for the flight. They will also open the gate for passengers to walk down the jetway and onto the plane.
Did You Know? The United States handles about 30 percent of all commercial aviation and 50 percent of all general aviation in the world.
The gate agent will probably also work at the ticket counter for the airline, and possibly help in the baggage department, too. In baggage, they will help to tag luggage for tracking, find, fill out missing luggage or damaged luggage claims, and more. They will direct passengers to the right gate, make announcements as needed concerning the status of delayed flights, and help passengers to remain calm.
Requirements of Airline Gate Agents
Passengers can sometimes be rather irritated when they travel, and it will be the task of the gate agent to be as pleasant and calm as possible – even when under stress. You will also need to be able to think clearly, too, when faced with possibly angry people who may have just been told that their flight will be delayed longer. This means you will need to have excellent communication skills – both written and spoken when under stress. Being bi-lingual could be an asset in some places, too.
If you will be required to work in the baggage department, you will need to be in shape and able to continually lift baggage that weighs up to 70 pounds. It will probably be expected that you will also be available to work on holidays, nights, overtime, and on weekends. You will also be required to wear a uniform and have good grooming habits. Standing may be necessary for entire shifts. Working at the ticket counter and in baggage will require that you know how to use a computer and office software.
Training and Degrees Needed
The requirements of an airline gate agent are simple, and it is an entry level job. You will need to be at least 18, and have completed your H.S. Diploma or GED. If you have worked in customer service previously, with a possible two-year requirement, it will help you to get this position.
You will need to be able to pass a TSA background check that goes back for at least ten years. The airline will provide any specialized training you need for the position.
Benefits and Salary
Airline gate agents generally enjoy good benefits at many airlines, and they would be similar to other employees. They may get health, dental, vision and life insurance, vacation pay, retirement, and travel programs. Starting salary will usually be between $9 and $11 per hour, but some airlines do pay more than $16 per hour for more experienced people.
Quick Summary of Airline Gate Agent Employment:
Airline gate agent jobs are expected to be in increasing demand in the next few years.
Gate agents often work in different areas of the airport – including the ticket counter and the baggage areas.
Being an airline gate agent could provide you with an entry into a great airline career.