Airline Ramp Service Jobs
Getting airline ramp service jobs can be the beginning of a great career in the airlines field.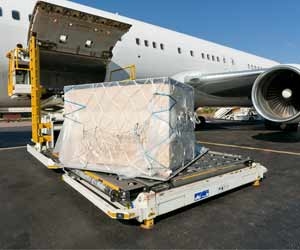 While the job requires an individual to be strong and hard-working, it can pay off in the long run.
The Bureau of Labor Statistics expects the airline industry to vastly increase in terms of the number of passengers and cargo that will be carried in the next few years. Many airports are already adding new planes and expanding their airport terminals to be able to handle this increase. With the increased air traffic and passengers, you can be sure that airline ramp service jobs will also increase, too.
Job Responsibilities
Those who work near the airport terminals doing such work as loading and unloading baggage or driving the airport service vehicles are referred to as ramp personnel. Ramp staff are almost never hired by airports, but often by airlines, and just as often by contractors who have an agreement with a specific airport. There are various types of ramp positions, and these may be combined with other tasks (especially at smaller airports) – including working at the ticket counter.
Did You Know? Boeing's most popular aircraft is the 737.
Airline ramp service jobs primarily involve the moving of luggage to and from the aircraft to the baggage area in the airport. It includes operating motorized equipment such as belt loaders, lift trucks, tugs, and bag carts. Other tasks that ramp staff handles is operating air start units, cleaning the aircraft and lavoratories, and using de-icing equipment. They will also need to use a computer to fill out reports and possibly help passengers file claims on damaged or missing luggage.
At smaller airports you may be required to help move aircraft into a parking position, as well as direct the pilot where to move it. You may also provide other services to the pilot and crew, such as driving them to the terminal, restaurants, car rentals, and meeting other needs that they may have.
Job Requirements
The job is very physical and applicants will need to be able to repeatedly lift and move objects weighing up to 70 pounds (some airports may require more). At times, it will also involve carrying heavy objects up and down aircraft stairs. Being able to bend and stoop, climb and kneel are also required at times as you load luggage into compartments under the aircraft.
Much of the work of a ramp agent is outside in all kinds of weather. Tight deadlines with aircraft scheduling will mean that you will need to work fast on the job. There is plenty of noise from jet aircraft, too. You will be expected to wear a uniform at all times and maintain a well-groomed appearance. Some airlines only offer limited uniform sizes to ensure a good weight-to-height ratio. You will also be required to work some overtime, and on some weekends and holidays, which are often the busiest times for passenger flying. Being able to work well with others as a team is very important. Some ramp staff personnel are unionized.
Training & Degrees
Airline ramp service jobs are entry level, especially at smaller airports. The only education you will need is either a H.S. Diploma or a GED. Larger airports may require a college degree. The airline will provide you with the training you need, which may be at another location. You will also need to be at least 18 years old and have a valid driver's license with a good driving record. Being able to communicate well in English is also essential, since you will at times need to communicate with pilots, other ramp personnel, and you will need to write reports, too. You can probably expect to be required to type at a speed of at least 30 words per minute.
People who work at airports are also required to be able to get a background check that goes back at least 10 years. It will need to be free of any criminal convictions. You will also need to be able to get a Secured Identification Display Area (SIDA) badge. Passing a drug test should also be expected.
Salary & Benefits
Many airline ramp service jobs have excellent benefits which is one good reason to get into working at an airport. Benefits may include things like medical, dental and vision coverage, disability coverage, life insurance, paid vacations and sick leave, travel privileges, retirement programs, long-term care, and more.
You can expect the pay to be partly based on the size of the airport or airline.
Hourly pay generally runs between $12 and $24.
Quick Summary of Ramp Service Agent Employment:
Ramp service jobs are entry level and only require a H.S. Diploma.
Operating a lot of different equipment is part of the job of ramp staff.
Ramp jobs are expected to increase in the near future due to more passengers.
Job often comes with great benefits.