Airline Financial Analyst Jobs
Every business needs to watch its finances so that it ensures that it will continue to make a profit. When the economy changes, expenditures that are deemed not as necessary as others are cut back, enabling the company to remain in the black.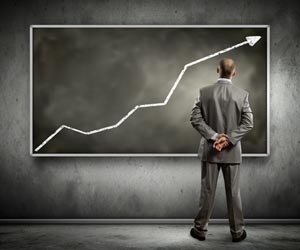 Airline financial analyst jobs ensure the best spending, investments, and use of money, so that a profit can continue to be made.
Airlines are very expensive to run and there are many costs. Multiply those costs by each plane, and even small amounts of costs per flight suddenly become very large. The Bureau of Labor Statistics predicts that the job of financial analysts in general will increase faster than most other careers – at a rate of 20 percent until 2018.
Job Responsibilities
The primary responsibility of an airline financial analyst is to make financial reports and then make recommendations based on the data in them. Accurate reports require the constant input of data into computers and ensuring that it is correct. Some analysts may be hired to work with specific departments of an airline, such as the aircraft maintenance department.
Did You Know? The wing on a single 747-400 contains 5,600 square feet (524.9 m2), which is an area large enough to hold 45 medium-sized automobiles.
It is the job of a financial analyst to perform and interpret cost/benefit analyses as they relate to the financial success of an airline company. Financial analysts use data related to sales volume, and the costs of fuel, maintenance and repairs, as well as salaries and other expenses to determine how financially successful an airline is and what adjustments need to be made so that it can be more profitable. Some analysts may also track a competitor's capabilities within a particular market.
Job Requirements
A financial analyst has few physical demands or requirements, except that it will be necessary to be seated through most of the workday. They often work in open cubicles. The individual working in this field needs to be highly organized, can pay attention to details, able to multitask, and be adept at problem-solving and math. They will also need to be able to work with a team. Those with prior aviation or military experience are often preferred.
It will be necessary to have excellent communication and writing skills, since ideas need to be communicated to others on the team, and to those who make the company's decisions. The analyst will help gather financial data, determine relevance, and synthesize it into useful formats – with conclusions. Some travel may be required. The environment will be fast-paced, and there will be frequent deadlines. Employees are expected to be well-groomed at all times.
Training and Education
Different airlines will have a variety of qualifications. Some of it will depend on the type of tasks involved and the size of the airline. Most will require a Bachelor's Degree in Finance, Accounting, or Economics, but degrees in Management Information Systems (MIS), Business or a similar area may also be acceptable. Some positions may require a Master's Degree. Anywhere from one to three years of work experience may also be needed. In some cases, familiarity with particular software may be required, including Excel, databases, Visual Basic, and more.
Training is usually not offered for this position, since the applicant should already have some experience. You will receive on the job training to become familiar with the needs of the company and any specialized software and company policies. You will also be required to pass a background investigation that will go back at least ten years. A pre-employment drug test is also mandatory.
Salary and Benefits
Airline financial analyst jobs are usually well-paid, and starting salaries can range between $43,000 and $93,000. There are opportunities in this field for advancement. The highest ten percent of financial analysts in any field earned more than $141,000.
There are many benefits that may come with this job. You can typically expect to receive medical, dental, and vision insurance, paid vacations, a 401k or similar program, and possibly some travel benefits for yourself and family members. Some airlines may also offer stock options and profit-sharing. Work is usually performed during a standard day shift.
Quick Summary of Airline Financial Analyst Employment:
Airlines will always need to know about how to best use their money and where and when costs need to be reduced.
Financial analysts need to have a Bachelor's Degree in Business or Accounting, or in related subjects.
They are paid well and usually only work on the day shift.
Opportunities for advancement in this position are possible.