Expert Truck Driver Employment Advice
By Matt Krumrie
JobMonkey.com
If you're looking for a job or career that can take you all over the country, or a job where you never have to sit behind a desk, then a job as a truck driver might be the career for you. But forget any old stereotypes about working as a truck driver – it takes skill and the appropriate training to become successful in this field.
"One misconception about the profession is that truck drivers are cowboys, renegades, and unsophisticated loners," says Bill Roberts, Director of Transportation at Dakota County Technical College (DCTC) in Rosemount, Minnesota. "Drivers today are trained and tested professionals dedicated to safety and efficiency." (DCTC Driver Training Program Info)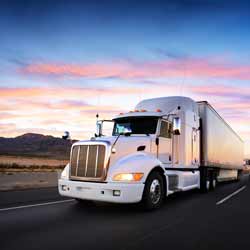 Roberts has 27 years of experience in the truck driving industry, and has spent the last 10 years teaching at DCTC. He recently shared his insight and information on what one considering a career as a truck driver needs to consider to succeed.
Here are those tips from Roberts:
What are some skill sets that a person looking to get into the trucking industry needs to have or can acquire through proper training? How long do most truck driver training programs last?
Roberts: For drivers, it is important to learn how to drive a wide variety of vehicles. But aside from the actual skill of driving, the most important skill sets have to do with safety and professionalism – drivers need to be respectful of the fact that they are driving an 80,000 pound vehicle that can be 75 feet in length and 13 feet tall, patient in traffic, observant at all times and courteous to other drivers.
There is substantial variation in the length and breadth of truck driving programs. The federal government recommends a minimum of 160 hours of training, but this is not a law. Some schools (often called "CDL mills") can produce a Class A licensed driver in as little as a few hours, but most responsible training programs that produce professional drivers range from 160 hours up to 400 hours over a period ranging from weeks to months.
For examples, DCTC offers a comprehensive training program that consists of 320 hours of training over two months. It includes seven different transmissions, seven different types of trailer, city driving, country driving, interstate freeway system, downtown area driving, rush hour, visits to truck stops and weigh scale stations, log books, hours of service rules, 35 written tests, five hands-on tests, extensive driving maneuvers, weighted trailers, night driving, and finally accident avoidance and anti-jackknife training where each student is put into a jackknife 15 times while teaching braking and steering techniques to control the vehicle.
If someone is considering a career in the trucking industry, what are some key tips they need to consider or understand before pursuing that career?
A driver should strive to become as thoroughly trained as possible.
Be aware that your first job may not be your dream job.
Be prepared to consider an over-the-road job for a time to get experience.
A driving job often leads to a management position such as dispatcher, fleet manager, salesperson, safety director, terminal manager, or owner of a trucking company.
Not everyone can drive a truck.
What are some common misconceptions about careers in the trucking industry?
Roberts: One common misconception is that most of the jobs in the trucking industry are driving jobs.
Half of a company's employees may be drivers, but the other half – managers, dispatchers, safety directors, raters and billers, sales people – can spend their career in the industry, an many couldn't tell you what the inside of a truck looks like.
Another common misconception is that truck driving is all over-the-road, and that drivers are gone from home for a few weeks at a time. That type of interstate highway driving is very visible, but a surprising number of driving jobs are regional or strictly local.
A final misconception is that men are better truck drivers than women. This is simply not true.
What are some of the "hot" jobs in the trucking industry right now – who is hiring, where are the jobs of the future? What type of truck driver is needed?
Roberts: One of the current hot job markets in the trucking industry for drivers is in the area of food and beverage distribution. In a troubled economy people may cut back on spending, but they still eat and drink. There are also job openings in the long-haul over-the-road segment of the industry, since that segment historically endures high turn-over rates due to life-style issues.
What type of salary can a person pursuing a truck driving career consider?
Roberts: U.S. Bureau of Labor statistics indicate that the average starting salary for a Class A Truck Driver is $43,200 per year. Experienced drivers and specialized haulers can make much more than that. Team drivers can make six-figure salaries exceeding $100,000 per year. Independent owner-operators can gross over $200,000 per year, but they are responsible for all operating expenses such as fuel, tires, repairs, insurance, and more.
What are the positives of a career in the trucking industry – what do people who get into it enjoy the most?
Roberts: The trucking industry offers a national presence – a driver can work in Tulsa or Toledo, Tucson or Tucumcari, and a driving job will never be exported to a foreign country. Most trucking industry employees, particularly drivers, enjoy the freedom of not being tethered to a desk, and they enjoy the daily variety of tasks, but mostly they enjoy their co-workers, who are generally down-to-earth and not arrogant or pretentious.