Military Truck Driver Jobs
If you like driving trucks and you're thinking about joining the armed forces, there are plenty of truck driving jobs to be had. The United States Armed Forces owns and operates over 50,000 heavy trucks and buses.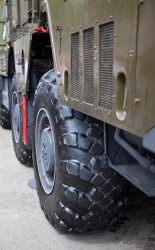 These can include water/fuel tank trucks, semi-tractor trailers, heavy troop transports and passenger buses. Working in the armed forces as a Motor Transport Operator, you'll be responsible for supervising or operating heavy vehicles used to transport freight cargo and personnel. There are many different types of transport vehicles and you may have to be specially trained to operate some of them. Some of your duties may include:
Interpreting load plans
Checking oil, fuel and other liquid levels
Driving vehicles over all sorts of terrain, in convoy or alone in support of combat operations
Keeping mileage records as well as fuel and oil records
Washing vehicles and doing general maintenance and repairs as necessary
A somewhat related job is military auto-shipping. Since military personnel are constantly moving around, there's a demand for auto shippers. Learn about these jobs in our Auto Driveaway section. And go to the Yellow Freight jobs page in this section to see how they're hiring military veterans who meet driver qualifications.
When you sign up as a Motor Transport Operator in the armed forces, you also will have 100% of your college tuition paid for up to $4,500 annually.
You can also qualify for a generous sign-on bonus and an hourly salary of $12-$14 while you're in training. While you're taking your college courses, you can earn up to $500 per month simply for being in the armed forces. If you're a member of the National Guard, you can earn money as a truck driver and only have to work a few hours every month, usually on weekends.
You'll need a high school diploma or GED equivalent certification in order to begin your training as a motor transport operator in the armed forces. Don't forget to look into distance learning as an educational option – it's very flexible. The forces will even pay you to get your GED before you even start training to be a driver.
As a motor transport operator in the armed forces you'll be earning an annual salary of approximately $21,000 to $34,000 and your training costs are taken care of by the armed forces. Drivers should be 18-40 years old and be in good physical condition as some lifting is always involved.