Diesel Mechanic Jobs
One of the most critical occupations in the trucking industry is the Diesel Mechanic. It's a position that is essential to the success of any trucking company because semi-truck maintenance ensures that trucks stay on the road.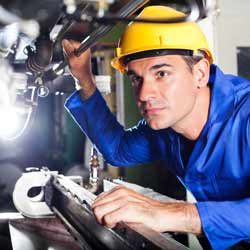 Not only is this a position of great importance, but it's also one that allows the person doing the work to have the respect of his fellow workers and customers. The demand for diesel mechanics is at an all-time high as the trucking industry as a whole continues to grow. Any mechanic who can keep trucks safely on the road is an asset to any company and the pay scale reflects this in many instances.
RELATED – If this sounds like your type of career then also see our information about A&P Mechanic jobs in the aviation industry.
To become a certified diesel mechanic technician you need to look into courses being offered through many trade colleges across the country specifically targeted towards the trucking industry diesel mechanic trade. Most offer some variation of classroom and hands-on training with a focus on communication skills, problem-solving and customer service. Whether you want to work on trucks, buses or other diesel engine machines, a career as a diesel mechanic technician is one that will serve to fulfill many of your career goals including job security and a good salary.
More specialized training will allow diesel mechanics to work on heavy equipment such as loaders, bulldozers, graders and cranes.
Most trucking companies employ several diesel mechanics to ensure that the fleet of trucks is properly maintained, repaired and updated as needed to keep the company successful. Without operational and safe trucks, a trucking company won't stay in business very long. Maintenance of the diesel engines is one of the main jobs, but other duties can include everything from installing air conditioners and brake pads to overhauling the entire engine.
By carefully maintaining the diesel engines on a regular basis, more costly repair work is prevented in the future.
Diesel mechanics can generally count on earning $12 to $25 per hour, with more experienced technicians earning commissions based on job performance and labor amounts charged to the customer. Most diesel technicians belong to unions with forty-hour weeks being the normal figure. Any night shifts or overtime work generally results in higher pay.