The American Trucking Association
The American Trucking Association is one of the largest transportation associations in the country, representing over 37,000 members covering every type of motor carrier. The association's mission is to serve and represent interests of the industry, influence Federal and state government actions in favor of the trucking industry, advance a positive image of the trucking industry, provide industry research and educational programs, promote safety and security and strive for a healthy business environment. The association also ensures that the perception that the public has of truckers and the industry, stays positive through public service programs and campaigns.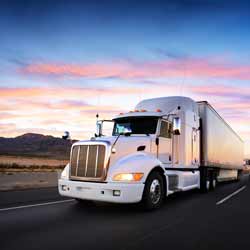 Working to Keep the Freight Moving
The United States has over 750,000 motor carriers traveling through the country and making sure that the economy stays rolling along. Truck drivers and their cargoes represent the way that over 70% of 11 billion tons of freight is moved around the country annually with 80% of all communities receiving goods exclusively by truck. The American Trucking Association (ATA) works hard to ensure that the industry has enough truck drivers to keep the freight moving. A Global Insights study from 2005 is predicting a shortfall of drivers by 2014 that will top 111,000 jobs! The ATA driver recruitment program is a national effort to get more truck drivers into the industry by promoting positive images of the industry through media and advertising campaigns.
The association is working hard to show prospective drivers that the career is an attractive one for a variety of reasons, including job independence and higher-than-average salaries. The program directs new candidates to the GetTrucking.com website which features a News section, Ask a driver section, and trucker highlights section. The media attention for this site and the ATA program continues to grow. The ATA and the US Army Reserves are working together to develop programs that will help bring army reserve members into the trucking industry while informing existing truck drivers about the opportunities they may have in the US Army Reserves.
Other Trucking Associations
The following is a list of various other organizations and associations that represent the needs of truckers and the trucking industry. By contacting an association that represents truckers in your area, you'll be able to get a better idea of the regional industry and the training schools and resources in your particular geographic area. Many associations have specific resources available that will point you in the right direction for starting your career in the trucking industry.
https://www.aitaonline.com/
https://www.njmta.org/
https://www.wtatrucking.com/
https://www.teamster.org/
https://www.mid-westtruckers.com/
https://www.naitusa.com/
https://www.ontruck.org/
https://www.ooida.com/
https://www.truckload.org/
https://www.uhca.com/