Trucking Maintenance Manager Jobs
The maintenance manager in any trucking company is generally a skilled technician with a firm working knowledge of truck repair and maintenance.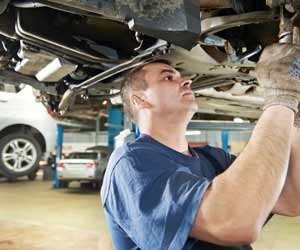 The position also requires the manager to have other skills as well, including developing and implementing service and maintenance programs for all truck drivers and truck mechanics to follow. This type of program ensures that trucks and trailers don't need to be taken out of service during the busiest times of the trucking season. The maintenance manager also keeps track of annual budget for the maintenance department, managing parts control, shop floor personnel and all time schedules for service and maintenance. Maintenance managers also have a say in the purchase of new equipment and the sale of the old. Maintenance managers usually hold a Certificate of Qualification as a truck and coach technician as well as other courses and programs specific to the maintenance sector of the industry.
Maintenance managers are usually responsible for developing and implementing preventative maintenance programs for shop personnel and drivers. By ensuring that all drivers take the time to practice a few maintenance checks every week or so, the drivers can ensure that their rigs stay out of the maintenance department for long periods of time.
Down time is lost time in the trucking industry, especially if the problem could have been prevented by following simple safety and maintenance protocols devised by the maintenance department manager. The maintenance manager and his crew regularly inspect all trucks and trailers and make any minor repairs necessary to keep the rigs safely on the highway. The requirements for these positions don't vary much across employers in the trucking industry. Check out jobs with ABF freight and other employers listed in this section to find openings.
Maintenance managers need to have strong problem-solving skills, attention to detail in their work, a strong sense of responsibility and safety, good record-keeping and communication skills, and having some business or management training doesn't hurt either. Annual salaries for maintenance managers range from $36,000 to $74,000 depending on years of experience, list and field of responsibilities and the size of the company. Many maintenance managers start out as truck mechanics and simply rise up through the ranks based on hard work and skills knowledge.