Trucking Positions
Ron Hawkins Jr. has been around the truck driving industry his entire life. His father drove a truck for over 30 years and now Hawkins has 26 years on the road himself.
Hawkins is proud of the positions he has held and even more proud of the fact that he's an American Road Team Captain – a select group of national truck drivers who have driven thousands and thousands of miles without ever having an accident. It's safety first for Hawkins, 51, a Perrysburg, Ohio native who is a truck driver and trainer for K-Limited out of Toledo, Ohio. Hawkins drives a tanker truck, hauling chemicals such as solvents, acids, motor oils and other liquids (except for fuel). He is home every night and his daily route takes him to Cincinnati, Detroit, Pittsburgh and Indianapolis, among other places.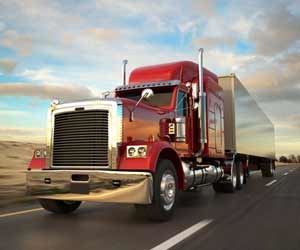 "It's been a part of my family my entire life," says Hawkins. "It's a great career and I am proud to be a truck driver. I've seen some great places and been all over the country. I never would have gone the places I did if I wasn't a truck driver. My office is my dashboard and I've seen some beautiful things in my career. No two days are the same."
That being said, Hawkins says the driving positions are not for everyone. His son is considering carrying on the family tradition and becoming a truck driver and Hawkins shares the same tips with his son as he does other aspiring truck drivers. Hawkins current position has him home every night – an opportunity he says comes with longevity on the job. He has worked over the road and been away four to five days at a time (others can be gone for up to 3 weeks at a time). His father often did the same thing while he was growing up and raised 8 kids while doing so – but that's not going to work for everyone, Hawkins stresses.
"When you're first starting out, I would say those first three years, be prepared to be away from home a lot," says Hawkins. "It will be a grind. If you have a family, you need a family to support you or it won't work."
Another thing most truck drivers absolutely need is a clean driving record.
Hawkins says it seems obvious but "you would be surprised how many people want to get into this career and can't because of their driving record."
There are many ways to get a truck driving career underway. Hawkins admits he's from the old school – where he just got in a truck and started driving – learning on the job. New laws and regulations have changed the industry since he started years ago, and one of the fastest and most effective ways to get into a career as a truck driver is through a qualified truck driving school. Many of those schools will have companies coming to them looking to hire drivers upon graduation or even before graduation where they will pay for a truck driving students school if they sign an agreement to work for their company upon graduation. Many companies ask for a three-year commitment in arrangements like this, says Hawkins.
Others who don't go to a formal truck driving school can still find a job with the proper training/licenses, which many companies offer and help prospective drivers get.
Hawkins admits, truck drivers face unfair stereotypes that they are uneducated or "just driving a truck" and that the job doesn't require skill or training. But anyone has driven cross country, especially in inclement conditions, next to a big rig barreling down the road, they should know just how skilled these professionals are. It can be a dangerous job, which is why Hawkins emphasizes safety and ongoing training. Like other professions, truck drivers are constantly required to pass industry-regulated tests and obtain proper licenses and credentials to stay and get out on the road. For example, Hawkins has his Commercial Drivers License (CDL) – a given for anyone in this profession. He also has a hazardous materials endorsement and is currently training to become a certified truck driver trainer on the Smith System, a nationally renowned driver safety training program. He continually is pursuing learning opportunities.
"There is constantly some kind of training out there that you can participate in to keep your career going and to understand how to succeed on and off the road."
Other requirements – other than the ability to drive a truck that is hauling very valuable freight that someone else needs to run and operate their business or livelihood – no small task at that – is the ability to understand each state's laws and regulations, keep records and logs and simply learning the on-the-job tricks of the trade that make someone a successful driver.
"It's amazing what you can go through getting from point A to point B," says Hawkins. "Loads are hauled every day and you don't hear about them. One bad accident and the nation hears about it, lives are changed and the industry is scrutinized. We want to avoid that at all costs. Good truck drivers are the most safety cautious drivers on the road. We want to get home to see our families each night – just like everyone else on the road."
Hawkins says salaries for truck drivers can vary greatly. First-year truck drivers typically make between $20,000-$50,000 and experienced truck drivers can make well over $100,000.
Hawkins says he has been to about "35-40" states across the country. Like his father, he has never had an accident or a citation. That's over 60 years of truck driving experience in one family with no accidents or citations. Hawkins is especially proud of that accomplishment and proud to be a truck driver.
"I get paid to travel and visit and see my country," says Hawkins. "But a guy has to be enthusiastic. I think those who are successful are enthusiastic and get out of it what they put into it. It takes time to learn and find what you like, but the experience you get is invaluable. I couldn't personally couldn't see myself doing anything else. I drive truck and it's a pretty good living."