National Park Employers – Xanterra, Aramark, More
Xanterra Parks & Resorts
This company is one of the country's largest park & resort management company. They emphasize ecologically sensitive tourism which has resulted in our environmental management and conservation programs at national parks having received widespread acclaim.
Xanterra is an authorized National Park Service concessioner with locations at several national and state parks. The visitor and hospitality services they provide include lodging, restaurants, recreational activities, gift shops, marinas, grocery stores, fuel service, and sightseeing tours.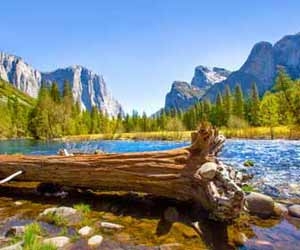 Employment Opportunities
Each year, Xanterra hires thousands of people. The jobs available are similar to those found at any resort or hotel, such as kitchen and wait staff, front desk clerks, porters, housekeeping staff, and tour guides. Xanterra encourages its employees to use their time off to explore the outdoors and the facilities they offer, but expects commitment and hard work on the job.
Benefits and Accommodations
Xanterra Parks & Resorts offers a comprehensive and competitive benefits package to employees who satisfy each respective plan's eligibility requirements including service and employment classification. For more details, check out the company website at https://www.xanterra.com
Aramark, Inc.
Aramark, Inc., is the nation's leading provider of food, transportation, health care, and distributive services. Aramark operates in all fifty states and ten foreign countries, serving 15 million people daily. They service many industries and recently began managing coffee kiosks in college libraries around the country. Aramark is one of the many authorized concessioners of the National Park Service.
Employment Opportunities
Aramark hires thousands of people nationwide to fill seasonal and year-round positions at their various locations.
Positions offered are similar to those of high quality resorts, hotels, marinas, and recreation areas across the country. For example, Aramark employs bell hops, reservation clerks, marina attendants, and tour staff in addition to many other positions. Summer and seasonal jobs with Aramark are not always glamorous, but they are "rich in the satisfaction that comes from honest work well done in a magnificent setting full of recreational and social opportunities."
Benefits and Accommodations
Many of Aramark's locations provide room and board at varying costs which are deducted from each employee's paychecks. Housing facilities vary from shared dorms to houses with kitchens. Aramark employees receive a 20-30 percent discount at gift shops and restaurants and receive access to recreational facilities during off hours.
Applying to Aramark, Inc
All applicants must be 18 years old and have a social security card and/or birth certificate, and a valid driver's license. Foreign applicants must have a J1 Visa and social security card. Applicants able to work "the majority of the season" will be given preference. See our list of Aramark listings in the Job Center.