Dude Ranches and River Rafting Jobs
If you like mixing business with the rugged outdoors, check out employment at dude ranches, river guide companies, and hot-air balloon operators. Most are found in out-of-the-way spots in scenic parts of the country, and employ fewer people on average than at resorts or parks.
Despite the smaller size of these employers, they are excellent places to work. They often instill a real sense of participation and camaraderie in the employees; when you know everyone with whom you work, from the owner down to the lowliest drudge, you feel a personal attachment to your company.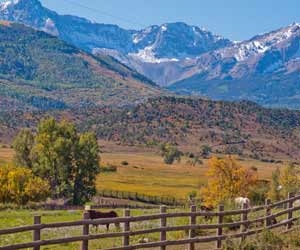 The intimate setting of small-scale lodges or ranches also fosters a better personal relationship with the visitors, and it's certainly much easier to help people have a great vacation if you honestly care about them.
Some of the positions that need to be filled at these sites do require skill or experience, however. For example, no ranch wants to hire a riding instructor who has never been on a horse. If you wish to apply for any such jobs, be sure that you are adequately prepared. Check with the individual employers that interest you if you're unsure about the necessary qualifications, but please don't waste their time unnecessarily.
Don't let this discourage you, though. There are many jobs that can be filled by applicants with only a limited or general work background. Food service staff, clerical personnel, and housekeeping staff are just a few of the sectors of the industry that are accessible to almost everyone. The spectacular locations and opportunities to fly fish, cross-country ski, mountain bike, or even fly in a hot-air balloon can more than make up for a relatively mundane job.
Whatever your level of experience, if you're interested in the great outdoors and rugged adventuring, or if you just want to hear your friends say, "Really? You're kidding!" when you tell them what you've spent the summer doing, then outdoor adventure companies are for you.
Dude Ranch Jobs
In case you missed the movie City Slickers, guest or "dude" ranches are usually family owned and operated ranches that house guests and offer them an authentic western experience. With some exceptions, most dude ranches are located in the mountainous western states and are usually somewhat isolated, offering their guests solitude and a wilderness experience. Some are actual working ranches and offer customers a chance to work on cattle drives, roundups, and brandings. The larger ranches usually have many organized activities for guests, including trail riding, horsemanship, and nightly entertainment, such as singing and square dancing.
Dude ranches offer many advantages to people seeking summer employment in the outdoors. Since they are usually located too far from town for employees to find adequate housing, most ranches provide free room and board to summer employees. Many ranches will also hire on the basis of telephone interviews, and they tend to hire employees from all over the country, as long as they have a genuine interest in the outdoors and western ranches. Many boast high return rates for their employees, which is both good and bad for someone seeking employment. This shows that they're enjoyable places to work, but it also makes for fewer openings for new employees. Check out our new dude ranch jobs section.
Before you apply for work at dude ranches, you need to keep some important facts in mind. Dude ranches can be very isolated, and if you're the type that needs a wild night life, you should probably look elsewhere. As one employer put it, "The employees that are happiest here are the ones who really love the outdoors, like meeting new people, and enjoy simple nighttime activities like sitting by a campfire, square dancing, or star gazing."
Also, don't plan on being a full-time wrangler your very first year if you have no experience with horses. While many ranches will train new employees in the basics of horse riding, most prefer to hire people with some experience in riding or horse care for wrangler positions. However, there is often a lot of crossover in job duties; for instance, people hired as housekeepers or food servers will also get a chance to help with the horses or are often asked back as full-time wranglers the next year. Also, regardless of your job title, most ranches try to ensure that their employees get plenty of exposure to riding and the local outdoors scene.
Most dude ranches are in fairly high elevation areas in western states, so you can expect dry weather in the summer with warm or hot days and very cool evenings. Autumn usually starts early, so make sure you take some warm clothing with you if you get hired!
During the hiring process, make sure you impress on the interviewer your intent to stay for the entire season and that you won't get homesick and quit your job early. Most dude ranches are quite small and they don't want to have to search for help in the middle of their summer season. Also, keep in mind that most of these ranches are family owned and tend to have a conservative social outlook, so dress and conduct yourself accordingly at your interview.
Click here for an interview with a dude ranch employee.
Raft Guide Jobs
These companies conduct white-water raft tours on rivers throughout the U.S. Many states require those in river rafting guide jobs to be certified with the state guide association, which usually requires that you complete a simple written test or guide course. For this reason, many companies look only for experienced rafters for these positions, but there are alternatives for those with no experience.
Most guide companies hire cooks, drivers, and base camp workers who need little if any previous experience to get hired. These workers can then gain enough experience over the summer to become guides the next year. Alternatively, you can take guide courses from various outfitters during the spring and be certified in time for the summer season. Many companies actually hire directly from the pool of their own guide school graduates, so be sure to check out any companies offering these schools if you lack raft experience.