Forest Fire Fighter – Forestry Technicians
Firefighter Duties
Forestry technicians primarily fight fires on interagency firefighting crews. While sometimes hired by the National Park Service or state forestry divisions, for our purposes we have included their listing here.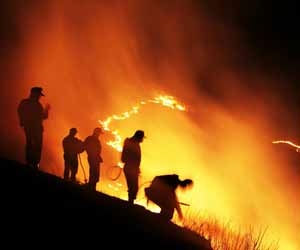 These jobs, just like all firefighting positions, require tremendous dedication and the ability to react quickly. Daily duties vary depending on whether there are wildfires burning. Forestry technicians might work on an engine crew, which is the first line of defense against a fire, or a helicopter crew, which gets to the more remote fires quickly and directly.
In the off season, forestry technicians do many of the same activities as other forest service forestry techs, including collecting tree measurement data, maintaining forest service campgrounds or shelters, thinning timber stands, and collecting other forestry data. During fire season, forestry technicians may fight fires and man fire lookout towers.
Qualifications
Anyone assigned to a strenuous fire position is required to pass a physical examination before beginning work. This exam can include an aerobic step test or a timed distance run. Forest firefighters must be able to carry packs weighing from 60 to 120 pounds up steep terrain. They must be willing to work extended shifts – sometimes lasting eighteen to twenty-four hours – in hot, dry, dirty conditions. Firefighters may also be subjected to a drug test prior to employment.
Getting Hired
To find a firefighting position, it's best to contact the national forest in which you are interested in working. That will give you an idea where most firefighting positions are located and who is hiring.
Find out what forest firefighter jobs are like from an expert.