Parks Maintenance Jobs
You may think that forests are pretty self sustaining, and in the ones that are untouched by mankind, they are. But once we put ourselves into the picture, maintaining the pristine natural beauty of America's national forests becomes a full-time job for a lot of different people.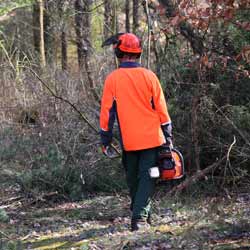 Forest service maintenance workers take care of both indoor and outdoor areas, and most of these jobs are labor intensive, so good physical health and the ability to perform sustained manual labor is a must for these positions.
Although maintenance work is one of the least visible fields of labor in our national forests, it is absolutely vital to the safe and efficient operation of our national parks. Throughout the country, park units call and rely upon their maintenance crews to maintain the trails, roads, visitor facilities, buildings and campgrounds, utility systems, signs, furniture and equipment that are all necessary to keep our national forests open and available to the public.
FACT! Today's natural forests need to be periodically pruned just like your garden. A forest management practice called clear-cutting mimics the natural pruning and culling of forest plant life that was once carried out by seasonal forest fires. Because uncontrolled forest fires are too dangerous to modern civilization, fires are no longer allowed to do this essential maintenance duty, and it's left to mankind instead.
Job Descriptions
Maintenance jobs include everything from trail repair to bathroom repair. Workers are needed in every national park across the country, and include titles such as:
Basic laborers perform a wide variety of manual labor tasks requiring no specialized training or experience. This includes grounds and building maintenance, shop, warehouse, and supply center stocking, unloading trucks, clearing trails, digging ditches, and washing vehicles and equipment. They may also do simple construction or paintwork under the direction of a skilled handyman.
Handyman positions are the next skill-level up from laborers, and often manage and direct labor employees in simple construction tasks. Handymen are responsible for general construction, maintenance and repair work on buildings, structures, partitions, signs and furniture. They will be expected to be skilled in the use of a variety of hand and power tools, specialty woodworking machines and carpentry techniques. They may also manage materials estimates by ordering and inspecting building supply contracts.
Maintenance workers provide general maintenance for forest service facilities that requires more highly skilled or specialized knowledge than basic laborers posses. They handle project requests, utility maintenance and repair, and the replacement of defective equipment.
Mechanical Systems Maintenance Technicians can be specialized for water systems, which means they would be responsible for installing and maintaining plumbing systems, water treatment systems, and pumps. They can also be specialized for other mechanical equipment systems, including low voltage electrical systems, lighting, HVAC systems, refrigeration and mechanical equipment.
FACT! Managed forests often produce more plant and animal biodiversity than completely natural forests. Forest management helps natural area wildlife to prosper by creating openings which stimulate the growth of sustainable food sources, and promote the conservation of diverse habitats.
Education and Pay
Although the lower level maintenance positions like basic laborers require no education beyond a high school diploma or GED, the more skilled maintenance and handyman positions will require a minimum level of skill and job experience. Specialized technical positions such as mechanical systems maintenance technicians will require both trade school or equivalent field and equipment training, as well as a minimum of one year of job experience.
Parks maintenance positions are listed under the Wage Grade (WG) category of the Federal Wage System, which stipulates that workers be paid at rates equivalent to those paid locally for similar positions. Typically this means that you will bill your time by the hour, however some positions may have a set standard of weekly or monthly pay. Because the wages for parks maintenance workers are based on the local rates, your actual take home salary will vary from state to state.
Parks Maintenance Jobs Summary:
There are a wide variety of forest service maintenance positions, ranging from simple cleaning duties to specialized technical maintenance of complex systems.
Parks maintenance jobs require good physical conditioning and stamina.
Although there are many permanent jobs available, basic maintenance positions such as campground and restroom maintenance make excellent summer jobs for students who love the great outdoors.
Many parks maintenance positions require only a high school diploma and six months experience in a similar position. But some jobs, such as mechanical systems maintenance, require specific skills training.
Workers are paid hourly rates that are comparable to those offered locally for similar positions.