Ranch Jobs
Dude Ranch Jobs are a similar to summer camp jobs, but hold a candle all their own. They are similar in the fact that they offer good seasonal employment opportunities, involve work outdoors and deal with a variety of age groups. However, a dude ranch is distinctly different than your typical summer camp.
Dude Ranches are guest ranches that are geared toward tourism. They are most commonly found in the southwestern states and in warmer, desert climates. This page provides a general over of working on a ranch, but to learn more visit the Dude Ranch Jobs section of Jobmonkey.
They are distinctly associated with cowboys and ranch culture and activities on a dude ranch reflect as such. Dude Ranches range from high-end ranches to fun adventure style camps with lots of horse riding and cattle driving. While Dude Ranches usually involve outdoor activities with a lot of animal related action, there are usually shops, pools and dining halls at high-end guest ranches that offer a more luxurious experience.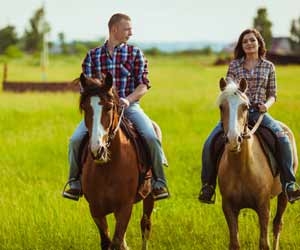 On rustic ranches, the lifestyle is more authentic and guests often work with staff members to experience a real wild-west lifestyle.
Dude Ranches offer employment for seasonal workers because with so many outdoor activities there is an increase of guests during the summer and peak-weather months. This means that during these months, Dude Ranches are eager to employ workers who can contribute to the large influx of guests and thus, there tend to be more job openings. However, Dude Ranches don't run exclusively in the summer. Because they are commonly located in warmer weather climates, their peak season can last longer than a typical summer. In fact, it is common for some Dude Ranches to run year-round, offering a range of activities during anytime of year.
Typically however, because of the outdoor activities found on a Dude Ranch, employment opportunities are highest during the summer months. Applicants interested in working on a Dude Ranch for seasonal employment are encouraged to research and apply for jobs far ahead of the beginning of the season in which they want to work.
Dude Ranch jobs are exciting, fun work and usually seasonal openings are fast to fill up. Summer jobs are usually posted in early February.
Types of Dude Ranches
There are nearly thousands of different Dude Ranches. Each ranch operates and offers something different from the next. Typically though, Dude Ranches are characterized in three categories.
Working Ranch
A Working Ranch offers hands on cowboy experiences. Guests work with staff according to the livestock on hand and activities can include cattle steering, horse riding and rodeo riding.
Dude Ranch
A Dude Ranch surrounds its activities mainly around horses and the outdoors. Riding and adventure riding are almost always included and overnight riding trips with camping are common Dude Ranch installments.
Resort Guest Ranches
Resort Guest Ranches tend to be larger and act more like a resort. The activities offered are still closely related to livestock and western riding however, the bungalows or guest rooms are more luxurious and it is common for there to be pools and higher-end dining on top of a range of outdoor activities.
With so many different types of ranches, there exists a wide range of ranch jobs for people interested in working on a ranch.
Hospitality and General Staff
In the same way hotels require cooks, wait staff, cleaners, bartenders, customer service representatives and front desk workers, guest ranches who cater to a higher-end tourism industry also require workers of this kind.
For people who are interested in working on a Dude Ranch, but don't have experience with horses or ranches in the past, working as a member of the hospitality staff is an excellent compromise. Other jobs found on a guest ranch can include: kids counselors or nannies, housekeepers, lifeguards, grounds keeper, golf course workers, gift shop or store employees and booking agents.
Requirements for Hospitality workers vary depending on the position. Applicants with previous hospitality experience are encouraged to apply however, a willingness to train or previous work experience that highlights a good work ethic is a great way to begin. Because you will be working on a Dude Ranch, an interest in the outdoors and western style riding is a must. These are truly adventurous summer jobs for college students and others.
Ranch Workers
Ranch workers are staff members that work directly with animals as well as guests. These positions most commonly include Wranglers and Guides. Workers of this kind are usually very experienced with animals and the outdoors. Ranch Workers are the quintessential dude ranch employees.
A Wrangler or ranch worker's responsibilities can include: guiding guests, educating about animals, horse and tack maintenance, leading pack trips, ranch repair, caring for sick animals, corralling, barn management and guest customer service. These workers must be excellent outdoorsmen as well as enjoy working with people.
Ranch Pay
Pay varies depending on the position and the ranch. Most Dude Ranches provide room and board for their employees, so there is large earning and saving potential. Pay often depends on experience and it is common for return employees to see a raise in pay. End of season bonuses are also popular and are added as initiative to complete the season or contract. It is important to arrange ahead of time the terms of pay and other forms of compensation you will receive as a Dude Ranch employee. For most Dude Ranch workers, it is the work environment and the love for the work that they most enjoy. Pay is just a bonus.
Links