Private Sector Outdoor Volunteer Jobs
It may come as a surprise to many that volunteer forces are growing more rapidly than the paid labor forces in many big non-government outdoor organizations.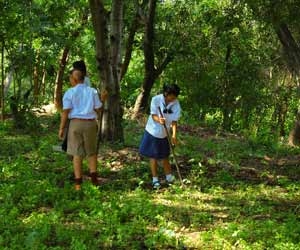 With budgets tight all across America, everyone needs more volunteers in order to create the impact they wish to have on the environment.
Recently, to offset loss or cutbacks being made to federal support, many private organizations have recruited volunteers to increase their labor force.  Private organizations can focus their aim in ways that the government can't, allowing them to target specific causes and make a major impact in narrow areas. Volunteering with private and non-profit organizations often comes with a heightened sense of satisfaction as you target one specific environmental issue and can see changes occurring before your eyes. As with many volunteer opportunities, they can often lead to part-time or full-time employment opportunities down the road.
Did You Know? Adults who began volunteering in their youth are twice as likely to volunteer as adults and pass the experience on to their own children.
While there are hundreds of local, state, and national environmental organizations to be found, we've included further information on the three groups that work in close conjunction with government employees and forestry professionals, thus giving you more opportunities to network and possibly find a paying position. Here are a few top volunteer organizations to investigate with more information on the following pages too::
The Student Conservation Association
For high school and college students wanting to make a difference, this can be the ideal place to volunteer, even if you have no experience. Each year they place 2,500 volunteers in wildlife conservation, forestry and water quality positions. Usually volunteers commit to working 40 hours a week for up to three months. Benefits include financial aid, college credits, and stipends.
The Appalachian Trail Conversancy (ATC)
ATC's mission is to preserve and manage the Appalachian Trail. Volunteer opportunities give individuals the chance to experience what life on the trail is like, while they help clean, maintain, build and protect it. Volunteer opportunities can often lead to jobs within the ATC, including internships, seasonal work, part-time and full-time positions.
Did You know? The Appalachian Trail is 2,135 miles long and transverses 14 eastern states, ranging from the North at Mount Katahdin, Maine all the way south to Springer Mountain in Georgia.
Greenpeace is the world's largest environmental organization. It offers amazing volunteer opportunities in the U.S. and worldwide, doing all sorts of green and environmental projects. Greenpeace projects include caring for land, water and wildlife. Thousands of volunteers every year dedicate themselves to different causes within the organization. There are only two requirements: you must be a U.S. resident and at least 14 years of age.
The American Hiking Society offers an opportunity called a volunteer vacation. Individuals can volunteer from as little as a week to as long as they can. The goal is to walk the trails every day and clean them up as you go. Not only do you get to camp and explore the beautiful hiking trials of America, you get to make a difference at the same time. Volunteers must supply their own camping gear, but everything else is provided.
Volunteer Outdoors is a Colorado based organization that offers short and long-term volunteer opportunities all over the state. Tasks can include building fences, trail maintenance, timber management, removal of invasive species, planting, seed collection and research.
Quick Summary:
Due to our nation's current economical status resulting in so many budget cuts, outdoor volunteers are needed more than ever in the outdoor private sector.
More people are volunteering than ever before.  In fact the volunteer labor focus is growing faster than the paid labor force.
Private and non-profit companies offer great volunteer job opportunities all across America and the world.
It's easy to make a difference and impact the environment when you volunteer.
Often volunteer positions can lead to full-time paid positions with companies later on.