State Agency Outdoor Jobs
Many who long for an outdoor job at one of our nation's parks picture themselves in high-profile positions at the nation's most famous natural sites.
They are attracted to working in the outdoors with the elements and are excited by visions of smoke jumping in Idaho's Sawtooth National Forest, being a lifeguard on the pristine beaches of Buck Island Reef National Monument or leading tours through the famous Grand Canyon National Park.
What they might not consider is that positions at such popular locations are among the most sought-after of all outdoor jobs, and that as a newcomer, it's unlikely they'll be able to beat the more experienced competition to land such a post. This is not to discourage you from wanting to reach those top positions in the federal government, but you should know that you may have to put in a summer in Georgia or another less popular site first before working your way toward the top jobs and parks.
However, there is another way to get into those parks without dealing with the government and spending years earning your way to the top.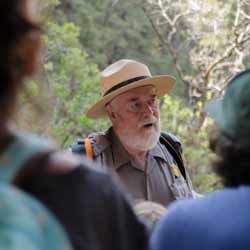 Like the federal government, state outdoor agencies hire seasonal workers to fight fires, conduct natural resources research, maintain campgrounds, build trails and interact with visitors. This can be a tremendous source of jobs for those who want to work a little closer to home or who don't want to deal with the extensive hiring process of the federal government.
State Agency Jobs
Although there are more jobs offered by the federal government, the outlook for outdoor state agency jobs is also very good. Almost every state has at least one agency that hires outdoor workers, and some of the bigger states have up to four different agencies. Common state parks department jobs include not just parks and forests but also ecology, water quality, agriculture, rehabilitation projects and more. Job positions, settings, skill requirements and pay scale will vary from job to job. The states offer amazing opportunities for seasonal work that has the potential of becoming long term.
Many of the state jobs are quite similar to the federal jobs and at times, workers from both sides work together and perform very similar duties. As with any outdoor job, you should be prepared to work outside in the elements and get your hands dirty while learning as much as you can. One of the great benefits of working for the state is that you likely won't have to travel far to work, but you'll still get the sense of working in the great outdoors. But if you want to explore other lands, you can always apply to state park agencies that are outside of the area you currently live. Whether you choose to advance within the state system or decide that you would like to move into the federal sector, experience and a gaining of knowledge will surely bring you the opportunity you're looking for.
Did You Know? In national park areas you will a wide array of animals, including bears, sheep, timber wolves, boas, falcons, flying fox, gray whales, moose and elk.
Applying, Hiring and Requirements for State Jobs
In general, applying for and meeting the requirements of a state job is much less strict than doing so for federal employment. Because each state and agency have different hiring and application processes, it's very important to carefully review each and every job listing you look at. This can make job searching easy if you are looking in one state or park, but a bit more time consuming if you want to search several. Pay close attention to the closing date of the posted jobs, because the deadline is usually later in the year than the federal's January deadline for seasonal work.
General requirements for state jobs are that you have to be at least 18 years old (although a few positions are available to those who are 16), and be eligible to work in the U.S. (being a resident of the state in which you wish to work is not required). In addition, some positions require the applicant to have a driver's license.
TIP! A federal resume should be longer than the typical private industry resume. For instance, it should include more details that will support the requirements listed in the job announcement. To determine what you should include, read the duties section of each job posting carefully and mention the skills that you have which will demonstrate your ability to do the job.
See: (State Agencies)
Quick Summary:
If you have your eyes set on working at the best parks in the country, consider applying for a state agency rather than a federal one.
If you're fairly new to the industry, be prepared to not get your first location choice. Take what you can get in order to start gaining experience.
Applying for state jobs is much less complicated and involved than applying for a federal agency job.
Review all job listings carefully as each state and agency will have different requirements.
Enjoy all of the rewards of working outdoors and making a difference with any of the outdoor state jobs.