National Park Service Job Outlook
National Park Service (NPS) workers and volunteers are responsible for staffing a number of locations around the country.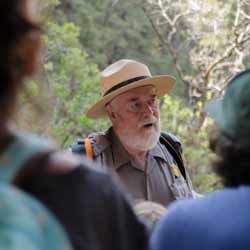 This agency is charged with maintaining popular tourist destinations such as the Grand Canyon, Yellowstone National Park, the Statue of Liberty and many more.
Approximately 22,000 people work for the NPS on a permanent basis. Several thousand are temporary and seasonal workers, who are hired annually. The vast majority of the work performed by the NPS is handled by the agency's 200,000+ volunteers.
The NPS relies on government funding, and this type of organization is often at the top of the list when cuts are being made. Challenging economic times mean that available funds will be allotted to programs and agencies offering what the government considers to be essential services first. While national parks offer low-cost vacation destinations for families looking to spend time together, budgetary restrictions mean that the NPS is more likely to assign tasks to volunteers than to increase its roster of paid employees.
There are many more people who want to work for the NPS than available positions, which means that competition for openings is fierce. Individuals who are interested in working for this employer can improve their chances of being a successful candidate for paid positions by volunteering first. Not only does this strategy help a job applicant develop relevant skills, but he or she will also make contacts within the NPS who can help pave the way to getting hired for a paid position.
A person who is determined to get hired for a paid job with the NPS can increase the chances of achieving his or her goal by applying for more than one position. A person who is ready and willing to work in more than one location will have a better chance of being hired than someone who is focused on working at a single location only.
Candidates who are interested in landing a permanent job may be able to get a foot in the door by starting with a seasonal or temporary position. Prior experience working for the NPS will get the attention of a recruiter and makes it more likely that a candidate will be rehired in the future; however, due to the large number of applicants for limited positions, there is no guarantee that someone with prior experience working for the Parks Service will be offered a position.