Forest Service Working Conditions
Make no mistake about it, forestry jobs can be tough. All applicants must be fit enough to perform physically demanding manual tasks.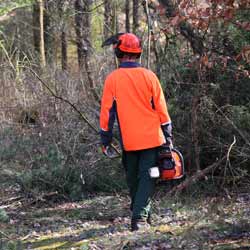 You'll put in long hours under all kinds of adverse weather conditions.
There will be times of complete solitude, as well as times of public education regarding natural resources. There might even be some aspects of law enforcement to your job. You could be planting trees one day and cutting down other ones the next. Most people, however, revel in the diversity that marks many of the jobs with the Forest Service. And they certainly don't seem to mind getting wet, cold, hungry, dirty, hot, or tired.
Equipment and Clothing
Uniforms are sometimes required of Forest Service personnel, especially rangers. If a uniform is required, you'll be told when you're offered a position. Non-uniform clothing is not provided by the Forest Service. Tools and special equipment are provided by the Forest Service. Employees should bring:
Heavy boots
Jackets
Gloves
Sweaters
Pants
Rain gear, especially if located in the Pacific Northwest or Alaska
Transportation
Travel costs to and from assigned stations are not covered by the Forest Service, so new employees must pay for travel to their assigned site. Transportation expenses between the assigned station and field duty sites are covered by the Service. This travel is usually undertaken by jeep or Forest Service truck, but may involve flying in a small plane, especially in Alaska.