Federal Government Jobs
The bulk of outdoor government job positions are found within the National Park Service, the U.S. Forest Service, the U.S. Fish and Wildlife Service and the Bureau of Land Management. In addition, there are some smaller state and federal agencies that enlist both paid and volunteer outdoor workers for similar types of positions. Hiring for government jobs is done through official channels, and in many cases, this means extensive paperwork and strict government guidelines and protocols which must be followed every step of the process. But in the end, it's worth it because working for the government comes with huge benefits. See our list of government jobs in the Job Center. New jobs are listed every week.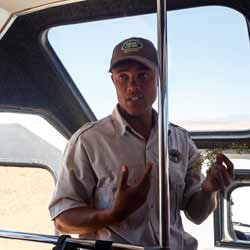 Working for one of the four federal land management agencies can be a rewarding way to get involved in a cause that matters to you. And while getting a job with the government may not always be easy, the strict hiring process exists because they are determined and committed to finding, hiring and keeping quality workers. A lot of work has gone into preserving and maintaining our natural resources, and those in charge want to ensure that the people they bring on board are as committed to it as they are. Just think, one day you could join the ranks of those federal workers who work so hard to keep our parks and wildlife centers beautiful. What's more, if you plan to make this a career path, you could climb the ranks and become one of the leaders who determine the course of our natural reserves.
Did You Know? One of our presidents, Gerald Ford, worked as a seasonal park ranger at Yellowstone in the summer of 1936. He has the distinction of being the only United States president who has served as a park ranger.
Whether you are looking to just get a taste of the outdoor jobs that are available, or you're ready to launch your new career path, you should understand a few things about how this competitive and riveting field works.
There are certain states and parks that the majority of new applicants want to work in. As a new hire – either for a seasonal job or a permanent one – you shouldn't expect to get assigned to your first job choice immediately. The good news is that whatever job you start in, you will have the privilege of working around natural beauty and wonder. The not-so-good news is that it will be necessary for you to put in some time and prove yourself as a hard worker who is committed to the cause before you will get assigned to the preferred parks and monuments.
Similarly, you may not be assigned to the state, city or even project that you had hoped for as your starting position. The National Parks Service (NPS) can be quite competitive, especially because most people who have chosen this as a career have a true passion and calling for what they do. But the more that you learn from every area you are stationed at and every project you complete, the more of an asset to the team you will become. You will be rewarded for this training as time goes by with better and better assignments. This sort of career path allows an individual to view each experience as a stepping-stone that gets them closer to the top. And being at the top is a place worth working for.
Did You Know? The National Parks Service employs over 20,000 people. These jobs are in parks, regional offices, and both temporary and permanent.
All jobs, whether they are seasonal, long term, or volunteer positions, require a wide range of skills covering many different disciplines. Although here we will focus on the outdoor job opportunities, the agencies also hire accountants, computer programmers, nurses and security services.
The NPS hires approximately 10,000 temporary and seasonal workers each year and has about 20,000 permanent employees, and they all perform exciting and rewarding jobs across the country. Many of these employees get to experience the beauty that nature has to offer on a daily basis, as well as the historical sites that many people only dream of being able to visit one day. From the Grand Canyon to the Statue of Liberty, the NPS is an integral part of American life, and if you choose a career in this exciting field, you can be a part of preserving and protecting it for the next generations.
All four government land agencies focus on a similar goal of preserving and managing our nation's historical, recreational and natural parks resources. The agencies cover not just the U.S. , but also its territories like Guam, Puerto Rico and the Virgin islands. Every year millions of people travel to enjoy the sites that these areas have to offer. However, without temporary and full time employees to take care of these parks and help visitors, this simply wouldn't be possible. Since 1916, the NPS has relied on individuals just like you to make a difference, and those jobs are very much available today.
Federal Government Jobs Summary:
There are four main agencies that make up the majority of federal government land jobs.
You may have to put in some time, but eventually you may get to work in the park or site you dream of.
Working with the NPS today will ensure that generations to come will still enjoy our national historical sites, as well as the natural beauty of our outdoor treasures.
With over 20,000 positions, there is a job that is suited just for you
Job benefits include working in scenic places, serving America, flexible work schedules, and retirement benefits, to name a few.