Jobs in State Parks
State parks offer another avenue for those who want jobs working in the great outdoors. Parks across the country hire full-time, part-time and seasonal workers to fulfill all sorts of job duties. The settings are as varied as the states in which the parks are located. You may find jobs working in forests and salt marshes, along seashores and lakes, in the mountains or even on glaciers.
With over 6,600 state parks in the United States, there's an excellent chance of finding a position with a park near you, and because states often have fewer requirements than the federal government, those positions are usually easier to get than similar positions with the National Park Service or the Bureau of Land Management.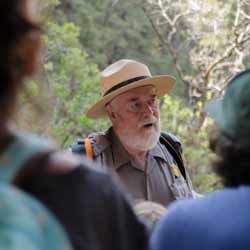 The positions cover nearly every type of work that needs doing, from serving as a life guard at a state swimming area to collecting data on the habits of an endangered species in a remote forest.
State park systems often have trouble finding enough seasonal staff to handle all the work that needs to be done during the summer and are always looking for motivated people to fill those positions. Taking a position as a seasonal worker is a good way to get your foot in the door if your eventual aim is a full-time, permanent position working in the state park system. Individuals who start as summer help to work with the tourist crowds and visitors may eventually go on to permanent positions in conservation, geology, agriculture or aquaculture. Available positions include biologists, park rangers and firefighters, as well as positions taking tickets, manning concession stands and doing basic maintenance and grounds policing duties.
If some of those positions don't sound exactly glamorous, keep in mind that in many cases, you'll be working outdoors, wearing shorts and sneakers..
FACT! Even though state parks make up only 2 percent of the U.S. total outdoor recreation area, they receive 29 percent of the visitors who enjoy state, federal, and local outdoor recreational areas.
State Park Job Descriptions
Thanks to pop culture classics like Flipper, Ranger Rick, and Yogi Bear, when most people think of job opportunities in parks, they think of park rangers. Although ranger might be the best known of all parks positions, it's only one of literally hundreds of positions in many diverse areas. Some involve working with the public, some with animals, some with plants, and some with all of the above.
Wildlife Managers monitor the wildlife in the park to ensure humans are not affecting their natural habitats or habits. They may track the population shifts of birds and other animals to get an accurate picture of the park's life over time.
Administrative Workers are as important to state parks as they are to any business or organization. They run the gamut from the receptionist who answers the phones and takes reservations to conservationists who work with the state and federal governments to secure funding and pass legislation that benefits the park. While they may not be working directly with the land, their efforts are vital to its preservation.
Public Information Specialists have high contact with park visitors and local communities. They give talks, both on site and off, and provide public relations and informational presentations about the park, its services, its natural resources and natural history.
Law Enforcement Personnel and security patrol state parks on foot, horseback, dune buggy, boat or truck to ensure a safe environment for all who visit or live in the parks systems.
Park Rangers oversee the day-to-day operation of the park in any and every aspect.
Historic Preservationists conduct ongoing historical research and mount preservation efforts to ensure that a park's historical legacy is maintained for future generations.
Firefighters are often seasonal employees, but some parks in high risk fire areas maintain year-round fire prevention and firefighting corps.
Park Managers oversee and manage the park as a whole, from scheduling employees and events, to budgets, security and conservation. While they are all administrators, many also are first responders who do hands-on work in the parks.
Aides and Technicians are the rank and file workers in the state park system. The broad designation includes everyone from research assistant to trail maintenance workers. These jobs are nearly always seasonal, require very little experience or knowledge and are usually open to students as well as others.
Often seasonal work can turn into a full-time career path after graduation. With summer experience on their side, recent graduates often find amazing job opportunities within the state parks system and continue to work all year long.
Quick Summary:
Jobs is state parks can give you the same experience as jobs working in the federal park and land management systems without the lengthy application and screening process.
Often states have a hard time filling seasonal positions so competition is low and chances of being hired is higher.
Some seasonal jobs require no experience at all and can have you working in a state park this summer, even if you haven't graduated high school yet.
State parks have jobs that can keep you out in the wilderness for weeks, or in a nice office with a beautiful view.
State parks don't just offer great seasonal work opportunities but great careers as well.