Forest Service Craft Workers and Trades Jobs
When you think of the people working in America's protected forest areas, you may not picture cooks, cement workers or mechanics, but park rangers aren't the only ones who keep our national forests up and running. Maintaining visitor and educational centers, campgrounds, ranger stations and roads takes all kinds of craft and trade personnel. While there are both indoor and outdoor positions, most of these jobs are physically demanding, requiring that you have a certain level of health and stamina.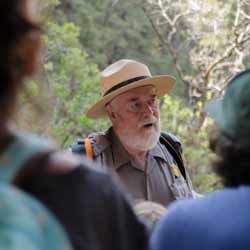 Use of proper safety measures and equipment is also a must, although if you are injured on the job, the Forest Service maintains excellent worker's comp and benefits programs.
Craft and trade positions are attached to a special vocational training program called the Forest Service Job Corps, which operates out of twenty-two civilian conservation centers located around the country. The Job Corps works through the Student Temporary Employment Program (STEP) and the Student Career Experience Program (SCEP) to offer students between the ages of 16 and 24 paid vocational training and experience while earning a high school diploma or GED. The program offers full and part-time positions, and is currently the prime source of external, entry level job hires in the Forest Service.
FACT! Scientists studying the effects of nature on human behavior patterns have found that just looking at picture of a forested area can make you calmer and happier. Imagine the beneficial effects of living and working in a natural, forested setting every day!
Job Descriptions
Craft and trade positions run the gamut from working in the kitchen to operating specialized equipment and trade skills.
Cooks typically work for the Civilian Conservation Centers, handling food inventory, storage, menu planning and the preparation of a variety of hot and cold foods, which are served to groups of varying sizes.
Material Handlers manage the shipment, processing, storage and distribution of bulk materials, supplies, and equipment using mechanized, automated, or manual materials moving equipment, systems and devices.
Motor Vehicle Operators operate the gasoline, diesel or electric powered vehicles used throughout the Forest Service parks to haul passengers, cargo, equipment and fuel. Vehicle operators need to be comfortable driving both on and off-road, including cross-country conditions, while keeping cargo intact and protected from the weather.
Mechanics work alongside vehicle operators to manage and maintain government-owned or leased cars, trucks or special purpose vehicles.  They perform routine inspections, maintenance and repairs of varying complexities, and give direction to other employees.
Welders operate seam and flash machines, and do manual gas torch welding in order to join a wide variety of parts and components. They are also responsible for the cleaning, lubrication and maintenance of welding equipment. They ensure that work areas are maintained in a safe and clean manner.
FACT! At least 28 percent of the nation's forests are located in counties supporting urban centers of 20,000 people or more. Studies have shown that neighborhoods with green spaces have lower crimes rates, less violent and aggressive behavior, better relationships between neighbors and reduced ADHD and behavioral problems in children.
Education and Pay
Although craft worker and trade positions seldom require education beyond a high school diploma or GED, certain skill-labor positions, such welders or construction managers, require skill training and journeyman experience, as dictated by state law. In general, you will need a minimum of six months of on-the-job or trade school experience to be considered for any non-educational craft worker or trade position.
Craft worker and trade positions fall under the Wage Grade (WG) category of the Federal Wage System. Workers in this category are typically paid by the hour, at rates equivalent to those paid locally for similar positions. For example, if you are applying for a position on a forest service road construction crew in Idaho, you can expect to receive hourly wages that are comparable to those offered for similar positions anywhere in the state. However, the pay rates may be very different from those offered to road construction crew members in say, Tennessee.
Quick Summary:
Craft and trade positions are hands on jobs that require good physical condoning and stamina.
The U.S. Forest Service employs over 1,000 craft and trade workers on a permanent basis, and hundreds as temporary or seasonal laborers.
Students working for their high school diploma or equivalency can get paid on-the-job training in craft and trade skills, as well as job placement assistance from the Forest Service Job Corps Civilian Conservation Centers.
Many craft and trade positions require only a high school level credential and at least six months experience in a similar position, but some jobs, such as building and road construction, may be regulated by state licensing agencies.
Workers are paid at hourly rates comparable to those offered for similar positions locally.