Administrative Jobs with the Park Service
Administrative employees are the heart and soul of the U.S. Forest Service. They keep the service agencies and programs running smoothly.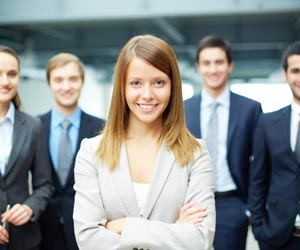 Responsible for everything from project and resource management to accounting and public relations, park service administrative employees are a vital component in the everyday operation and care of our national forests. Administrative positions typically offer full-time and permanent employment, although some of the more junior postings may offer a set period of work, such as one year. At the end of the time, it can then be re-evaluated and extended to permanent employment. Although administrative employees must be dedicated to the practical and ethical improvement of our national forests, these positions are not for people hoping to work in the great outdoors.
FACT! The Forest Service plays a key role in formulating policies for the management and protection of the world's forest resources. They work closely with national and international agencies, nonprofit development and assistance organizations and universities.
Job Descriptions
Forest service administrative positions include account specialists, management and communications positions and program liaisons and directors.
Accounting Technicians examine invoices, claims and payment requests for goods and services provided to or by the government. They check for accuracy and compliance with regulations. They monitor accounts payable transactions, disbursement and payment schedules, and review documents pertaining to purchase orders, shipping documents, material schedules, receipt inspection and rejection, bills of lading, contract amendments and modifications.
Administrative Specialists support internal and external communications regarding organizational programs, and act as liaisons to disseminate information about program requirements, identify and resolve problems, and prepare a wide variety of written materials related to administrative or program work, including program correspondence, memoranda, white papers, and program trend analyses.
Works Program Officers work primarily out of the Civilian Conservation Centers, and are responsible for the long-range direction, implementation, planning and execution of vocational training. They oversee safety and occupational health programs, and develop center-wide work program objectives. In addition, the works program officer is expected to verify that students meet training objectives, and monitor student progress, while continually evaluating and strengthening center training programs.
Supervisory Administration Specialists guide and interpret agency policies and programs, and make decisions regarding them based on the assessment of policy conditions, phenomena or anomalies. They also oversee administrative and human resources management, develop staffing plans, schedules, and work assignments, establish employee performance expectations and guidelines, and provide instruction, feedback and periodic evaluations to staff members.
Specialized technical administration positions, such as accounting technician, typically require at least one year experience of working at tasks which require skills, knowledge and abilities similar to those required by the position to be filled. A high school diploma or equivalency is also needed, but higher levels of education are not necessarily required for hiring. As with forest service clerical positions, post high school education may be substituted for actual experience in the field. The higher management level positions, such as  administrative specialists, will require the greater amount of post-graduate education.
Park service administrative positions qualify employees for grades 5-9 of the General Schedule (GS) category of the Federal Wage System. Promotions don't come often or quickly, and at this level you can expect a two year wait for each pay grade level advancement between grades five and seven, and a three year wait time for each level promotion beyond seven.
Quick Summary:
Administrative jobs with the National Forest Service tend to be long-term, full-time situations.
Positions range from highly specialized areas such as accounting, to general management positions. These positions encompass a wide variety of organizational, administration and supervisory skills.
Administrative positions are typically located in large city agency centers or at one of the twenty-two Forest Service Job Corps Civilian Conservation Centers around the nation.
All positions require a high school diploma or equivalency, as well as one year of field experience. Specialized fields and management positions may require a bachelor's degree, and a higher level education can be substituted for some field experience.