Accommodations for Seasonal Parks Staff
When you take a seasonal position within the parks system, you may be offered – or required to take – accommodations on site. This isn't always the case because many state parks hire locally, and the staff has no need for on-site housing.
Few urban parks offer housing, as there is plenty of available housing in the area. However, many of the more remote state and federal parks provide housing and accommodations for their seasonal workers because of the lack of other options.
Housing comes in many shapes and sizes, depending on location and length of stay. Most often, the accommodations provided are shared and quite basic. State parks have houses, bunkhouses, apartments and cabins.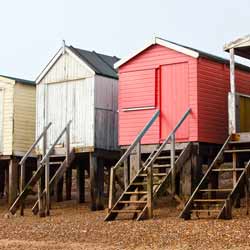 If you're serving in a very remote location – or traveling as part of your job – you may be carrying your house with you in the form of a tent. No two types of lodging are created equal nor can they be compared as each serves the purpose for that location and park's needs. Although accommodations might be very basic, you'll have everything you need. Many seasonal employees fondly remember their living accommodations as one of the more unforgettable and enjoyable parts of their experience.
State Park Housing Examples
While each state park is different when it comes to staff accommodations, these two examples may give you an idea of what you might expect.
Colorado's Eleven Mile state park provides housing for seasonal workers in an onsite two-story house. The house has five bedrooms and two bathrooms, as well as a kitchen, dining room and utility room that are shared by all employees. Each room comes with bunk beds, so the house can hold up to 10 employees. However, there are often only five employees on site at a time, so each employee gets his or her own room. The house has running water and all the other basics you need to cook and live.
Denali State Park in Alaska is known for its cabins that house seasonal workers. Because many of the positions with Denali are off in back country, the park has set up a system of cabins sprinkled throughout the park. Most cabins have only one or two rooms each with two beds. They usually include one large open area that is the kitchen, living and dining room. Some of the cabins have bathrooms while others just have outhouses and shower stalls for showering. Depending on the position, you might spend weeks at the same cabin or you might travel every few days to a new one.
Did You Know? The tallest peak in all of North America is in Alaska's Denali Park. Mount Denali (formerly know as Mount McKinley) is over 20,000 feet high and is actually the centerpiece of the park. On a clear day, the peak of Mt. Denali can be seen from over 70 miles away.
More on State Housing
Most of the time, you'll need to put up a deposit for damages if you choose to live in state-supplied housing. The deposit will be reimbursed after the property has been inspected when you're leaving.
If you need to pay for housing, it will be deducted from your paycheck at the agreed-upon rate. In general, the rent for your housing will be quite low.
There is never smoking allowed with state park housing (on-site or not) and pets are also prohibited. In most cases, employees are responsible for bringing their own bedding, linens and towels, but everything else, including cookware, utensils, couches and lamps, will be provided.
Also, many parks have more than one type of housing depending on where you will be working. If you're closer to a park entrance or a high traveled area, you will most likely be in something that holds more people like a bunkhouse or home, while in more remote locations you will find cabins and tents. This is just a guideline and every park and site will vary and do what works best for them and their employees.
Quick Summary:
Low rent housing is often offered to seasonal workers who have come from far away or are working in remote locations.
Housing will vary greatly depending on the location. It may be as basic as a tent or as nice as a house with your own private room.
Not all seasonal staff is offered housing. If your position is in or close to a town, you may be responsible for finding your own housing during your employment.
When it applies, a housing fee will be deducted straight from your paycheck.
While most housing is within the state park, some are in towns and off-site grounds.