Volunteering with the Park Service
You don't have to be employed by the National Park Service to work in the national parks. The NPS offers many volunteer opportunities that provide the same sense of adventure and accomplishment, with an even greater reward. When you volunteer with the NPS, you have a chance to get involved, work outdoors, make a difference and experience America in a way you've never done before.
VIPs (Volunteers-In-Parks) work side-by-side with NPS employees to perform a wide range of important services.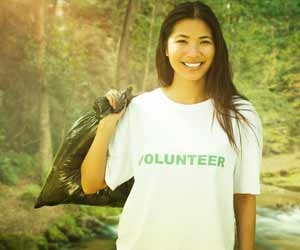 With more than 400 parks in the national park system, you'll find positions available in every U.S. State, including Alaska and Hawaii, as well as in some of the U.S. Territories. The working environments are as varied as the positions. While some fit the typical view of working in the wilderness, many others are located closer to civilization. In fact, many state parks are located within large cities, so you'll be certain to find a working environment that suits you.
As a VIP, you become part of the heart that keeps our national parks alive, but the advantages of volunteering go far beyond the good feeling you get for doing good. You'll have experiences that most people can only imagine. As a parks volunteer, you may get the chance to climb volcanoes, hike along famous trails, document the movements of endangered animals and experience the incredible majesty of America up close and personal.
Did You Know? Yosemite National Park in Northern California has the tallest waterfall in the United Sates. At 2,425 feet, it's also the third tallest waterfall in the world.
What Are the Requirements for VIPs?
The requirements for VIP positions vary based on the duties of each position. In general, VIPs should be in good health and able to carry out the duties of the position for which they are applying. Some positions, particularly those that deal with sensitive information or bring the volunteer into contact with the public, may also require a clean background check.
What Do VIPs Do?
As park funding has decreased over the past few decades, VIP roles have taken on increasing importance. Today, volunteers are an integral part of the success of the park system.
When you apply to become a VIP, your interests, abilities, talents and skills will be considered, and you'll be matched with a position that best utilizes them. Every park has different needs, but these are some of the duties performed by VIPs in many national parks.
Volunteers may:
Patrol the park trails and grounds on foot, bike or even horseback
Man an information desk to answer visitors' questions
Assist in park maintenance and improvements by painting structures, putting up fences or building needed fixtures
Maintain trails, build walkways and post trail signs
Guide nature walks, giving informational presentations and demonstrations on anything from natural history to local wildlife
Help design or update park websites and computer programs
Did You Know? The NPS manages over 84 million acres, including 43,000 miles of shoreline, 85,000 miles of rivers and streams, and 17,000 miles of trails.
More About VIPs
As a VIP you will work with the National Park Service to preserve our nation's natural resources, beauty cultural history.
VIP positions are open to almost anyone who has an interest, including students, individuals, couples and families. Prospective volunteers under the age of 18 must have the signed permission of a parent or legal guardian. VIP positions are not limited to U.S. Citizens. Many VIPs come from all over the world to work in our nation's parks.
There are several different ways to apply to become a VIP. You can download an application on the Web and submit it via email. You can also request that an application be sent to your house via the U.S. Postal Service, or be faxed to you.  Perhaps the simplest is checking out our job board, where you can find hundreds of outdoor job postings listed in one convenient place.
You must submit a separate application for each park in which you want to volunteer. The VIP manager at each park reviews applications and will contact those who seem to fit the park's needs. Selected applicants will be called in for an interview to learn the parameters and requirements for the position being offered. If they choose to accept the position, they must sign a volunteer contract.
Quick Summary:
You can work outdoors in the National Park System and make a difference by being a VIP.
Almost anyone can be a VIP, including non-U.S. citizens and minors who have adult permission.
VIPs perform a wide range of duties alongside park employees.
Although many VIPs work outdoors in nature, some work in offices or at information booths and kiosks.
Applications can be downloaded from the Internet quickly and easily and submitted by e-mail.