On the Job – Working at Yosemite National Park
Lisa Bellavia of Seaside, California, spent a summer working for Yosemite Concession, the company that provides all the food and lodging accommodations within Yosemite National Park. Although most people are hired ahead of time and arrive with a position in hand, Lisa decided to drive straight to the park to apply. She didn't start working right away – it took about two weeks to be assigned a position working in Yosemite's Curry Village as a housekeeper, cleaning tent cabins, and doing litter pick-up. She says she had one of the best summers of her life.
My summer spent working in Yosemite National Park was a summer that lives vividly in my memory.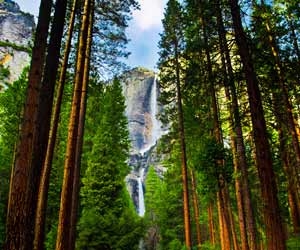 How can I forget waking up every morning to
mountains of granite all around me and the rushing sound of so many waterfalls? I did not care what position I was given as long as I was able to live inside that beautiful park.
When I arrived at Yosemite, I was told there were no immediate positions to be filled…I was told to come back to the personnel office everyday to check on job openings. These circumstances were not at all a hindrance. I was given housing and food for free until I was assigned a position. This also gave
me free time to go hiking and learn more about the park. I was given a temporary job working as a parking lot attendant during the weekends. I enjoyed this job, got paid, and I met a lot of people from all around the world.
After two weeks, there were some positions open in the valley [of the park]. I was given many options of where I could work, and I chose housekeeping, cleaning the tent cabins in Curry Village. I had many friends who were
currently working in housekeeping, and it looked like a good job. Other employees told me it was the toughest job in the concessions department because of the labor. During my breaks I would go find other workers who were in my area, and we would sit out on rocks and talk. Sometimes our boss would buy us ice cream bars and have them delivered to us in our sections. The labor was hard, but rewarding.
On the days I wasn't working I usually went hiking. There was this special
place called "Devil's Bathtub" where a small waterfall would pour down and swish around in a small swimming hole. Often my friends and I would hike about ten minutes up a hill to this place, and then we would lay out in the sun. The view was spectacular! Besides working and hiking there are so many things to do in Yosemite. The park offered art classes, CPR and first aid training courses, road races, dances, organized sports, church services, and
photography field trips. I was able to utilize most of what was offered to me, but there was just so much!
The best part about working in the park is the employees. There are so many people with different backgrounds who come to work in Yosemite. I met people from the East Coast, the Midwest, as well as local Californians. Working in Yosemite was like living in a little town where I knew mostly everyone by name or face. I even got a chance to see the local bear, "Cinnamon," that frequently visited the camp where I lived. I cannot think of a better experience than the one I had last summer.