U.S. Forest Service – Job Descriptions
The U.S. Forest Service is much bigger and widespread then many people realize. In fact, they employ over 55,000 people annually and roughly 20,000 of those employees are seasonal or temporary workers.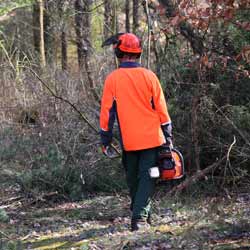 Whether you grew up around the forest and have always felt a call to work there, or you have never seen a forest, but feel as if you want to learn more about it, working with the U.S. Forest Service can be an amazing opportunity.
It's hard to go wrong by taking a job where your "office" is deep in the forest. Just think of your backyard being Gunnison National Forest in Colorado, Tahoe National park in Northern California or Louisiana's Kisatchie National Forest. You could wake up every day and put on your uniform – boots, gloves, a hat, some shades, a flashlight and a whistle. Not only would you get to spend some of your days with people who also enjoy the wilderness, but you would get to walk among the world's most pristine trees and breath-taking scenery imaginable.
Did You Know? In the United States, we have 104 million acres of land, much of it forested, which is permanently protected because of the National Wilderness Preservation System. That means that mining, grazing and logging are off limits in these areas.
Job Descriptions
Much of the work with the U.S. Forest Service includes things like thinning timber stands, or obtaining technical data to better determine the needs of the forest. Often forestry jobs have less public contact than those at national park sites, but are still a valuable part of keeping our natural resources safe. By maintaining and caring for the forest, these workers are responsible for increasing the overall health of the forest so that they will be here for generations to enjoy in wonderment. Below is a quick overview of some of the most popular areas of employment with the U.S. Forest Service.
FACT! Forest management creates openings that stimulate the growth of food sources. In fact, some forest animals, such as elk, deer, turkey and antelope are even more plentiful today than earlier in the century.
Working Conditions, Job Outlook, and More
Working out in the field for the U.S. Forest Service is not an easy job. It can be very demanding both physically and mentally. Often workers have to endure long hours in sun or rain, and spend a lot of their time alone and away from all other humans. Other times, these workers get the privilege of educating the public on the importance of the Forest Service, including its efforts in conservation and the environment.
Seasonal jobs often vary throughout the season. For instance, you could be planting trees one day and then chopping down others the next. But every job is important for the overall health and safety of the forest, its staff and its visitors. Although in the past the Forest Service has employed over 20,000 seasonal workers, this number is expected to decrease due to budget cutbacks. But that still allows for thousands and thousands of positions. Polls have shown that tax payers are willing to pay to keep these areas staffed and open for all to enjoy, and that's very good news for those who might to work for the Forest Service.
Find all the latest Forest Service job postings in the JobMonkey Job Center right now. You're just one click away!
U.S. Forest Service Summary:
Most all U.S. Forest Service jobs involve working outside in nature. This means that your office would include changing elements and picturesque scenery.
Working for the Forest Service requires a commitment to help maintain healthy and safe forests for all to enjoy.
It may be to your advantage to apply for a job as close to home as possible.
The U.S. Forest Service employees a wide range of individuals from receptionists who work in the office to specialty skilled craft workers.
Seasonal jobs offer workers a chance to explore and do many different positions within the forest.