A Brief History of the Cruise Line Industry
Before the dominance of air travel, which began to enjoy commercial success in the late 1960s, passenger liners were the preferred mode of overseas travel.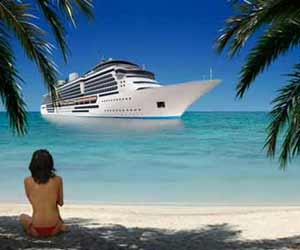 Ships changed very little during the first half of this century. Although engine efficiency improved, passenger staterooms, public lounges, and deck space on a cruise ship built in the 1950s were not much different than those on the S.S. Titanic. Most of the so-called modern ships plying the waters during this time copied the amenities and grand styling of past steamships. Their purpose remained the same as well. Oceangoing vessels were primarily used to get from Point A to Point B, especially for second- and third-class passengers, whose accommodations were in stark contrast to those in first-class staterooms. The most common voyages were transatlantic crossings from New York to London.
Interestingly enough, you can still visit the original terminal at Tilbury Docks, just east of London. This is a fun way to see the beginning of the cruise ship industry while imagining the hustle and bustle of a bygone era. It sits humbly on the tide flats of the Thames, surrounded by the smokestacks of the city. It was from here that the grand Queen Elizabeth ran continuous service to New York for so many years. In this golden age of ocean liners, ships such as the Lusitania, United States, Ocean Monarch, Paris, Queen Mary, Caronia, and Laconia were sailing the high seas. Every vessel had a unique personality, history, and enough passengers to keep companies financially afloat. But it was an age that would eventually come to an end.
The real blow to the cruise ship industry came in the 1960s when Boeing began selling 747s and other aircraft worldwide. Meanwhile, a global transportation network of airports with regulated common language and air traffic controllers, in coordination with the United States Federal Aviation Administration, was being established. As the decade came to a close, it was no longer fashionable, practical, or economical to travel by boat. The age of the jumbo jet had arrived.
Who is to say which factors brought the concept of the cruise ship back to life. It is speculated that shows such in the 1970s classic The Love Boat contributed to the idea of luxury cruise ship travel and that ideas found in this show contributed to a growing trend of cruise ship travel as a luxury vacation rather than a means to travel as a necessity.
With Princess Cruises focused on Caribbean itineraries, the popularity of cruise ship vacations grew by leaps and bounds. This also marked a time when cruise ship amenities began to change. Cruise ship travelers of all social classes would enjoy first-rate rooms and service. Ocean views, pools, casinos and onboard entertainment are all staples when it comes to cruise ship travel, as was the case in the late 70s when more and more cruise ships were being built. The same is true today. Larger and larger vessels are being constructed – a trend that has continued in the cruise ship industry as passengers see bigger and better ships.
Find out more about the history of the cruise ship industry as it transformed from necessity, to luxury. It's fascinating growth into one of the travel industry's largest sectors is a great story for all potential cruise ship employees to know. After all, you might owe your next job to it.