Working on a Cruise Ship
It's hard to imagine a more ideal job than attending to the needs of happy, smiling passengers aboard a luxury cruise ship. The sun is shining, the water is blue, and you are working on a cruise ship: a cold drink in one hand and a paycheck in the other. Yes, working on a cruise ship, big or small, has its perks. But opportunities don't come without research and planning on your part.
Even with the thousands of new jobs added each year and the rapid expansion of the industry, you'll have to work hard to get a job – there's plenty of competition. Large cruise lines receive up to 700 resumes and applications a week, so job seekers should be prepared to be persistent and patient while remaining positive. That's a tall order, especially in addition to the pressures of finding a job, but although cruise ship jobs are demanding (and it's easy to see why) they are also accessible.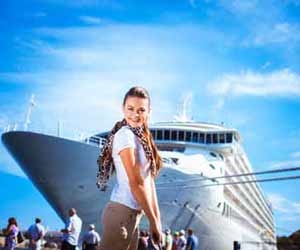 In order to help your chances, it's important to have a good application strategy and to have the proper contact information to make your job search more effective and efficient.
Also, having an understanding of the cruise ship industry, the jobs that are available and the types of things cruise ship employers look for in hiring new employees will increase your chances of finding a job. All of these resources in addition to numerous more can be found in this section and through our content partner, www.CruiseJobFinder.com. The most useful information is in their Members Section. They charge a small fee for accessing it (only $3.95 for 5 days), but it is a small and worthwhile investment for anyone seriously considering a job in the cruise line industry. The list of jobs found in the Members Section continually expands and should be considered an invaluable resource for applicants.
On the following pages, you will find out about the many different types of cruise jobs that are available for both entry-level and experienced interviewees. The following is a list of some of the positions we discuss at length on the following pages.
You will find information working the following types of job on cruise ships:
In addition to profiling the jobs listed above there are a wide array of job search tips and industry facts in this section.