Summer Cruise Jobs in Alaska
As you've just learned, cruise ship jobs provide an excellent opportunity for seasonal work. Some of the peak travel months in the cruise ship industry are during the summer, when the weather is favorable.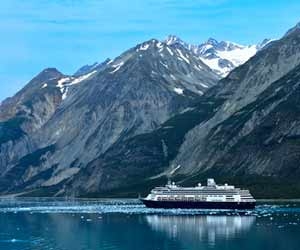 This is especially true in Alaska, where seasonal cruise industry positions are plentiful between May and October.
Although there are some cruise lines that explore Alaskan waters during the colder months, there are considerably more Alaskan cruises during the summer. The better weather, longer days, and the number of outdoors activities increases in the summer, especially for regions like Alaska where winters are harsh. Therefore, the summer months are a highly concentrated time for cruise ship travelers to visit the northern waters of Alaska.
Alaska has been and continues to be, one of the most popular cruise destinations in the United States. The breath taking beauty of the Alaskan wilderness, coupled with extremely adventurous (and also luxurious) land tours, makes Alaskan cruises a favorite vacation among cruise ship passengers each year.
There are a number of major ocean liners and specialty cruise ships that access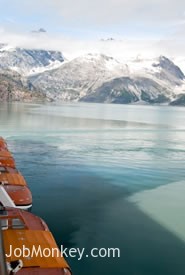 Alaskan waters in the summer, and as a result there are hiring peaks in the spring and summer months to prepare for this influx. The ability to travel and make good money in a short amount of time is a hard scenario to beat, making Alaskan cruises extremely popular among college students and summer job hunters.
Because of factors such as the favorable summer weather, and the number of passengers who book cruises in the summer, employment opportunities expand considerably. This includes land tour and guide jobs…folks who work directly with cruise ship passengers who disembark at ports of call for onshore adventures. During the winter, of course, such jobs are non-existent.
As you can see, there is a wealth of seasonal cruise job opportunities related to cruises in Alaska. Find out more about applying for a job on an Alaskan cruise liner below.
Hiring For Summer Cruise Ship Jobs in Alaska
The best time to look for a seasonal job in the Alaskan cruise industry is in the preceding fall and early winter and spring. We recommend seeking out jobs as early as possible, because it increases your chances of finding work. However, there will certainly be last minute positions that need filling as the summer months creep closer, so last minute applicants shouldn't be discouraged.
Alaskan cruises are facilitated by both large ocean liners and specialty, or smaller cruise lines. Below you will find a list with links to several companies that feature cruises specifically in Alaska. On that list you will find major ocean liners, river cruises, yacht cruises, as well as small cruise ship companies.
Major Ocean Liners
The following are a list of some of the bigger ships that sail through Alaskan waters, and who hire new employees each summer.
Small Ships
There are so many small ships that cruise through Alaska in the summer it would be impossible to list them all. Keep in mind that a great deal of the smaller Alaskan cruise ships are local ships with smaller crews. Job opportunities are less abundant with some of these smaller employers.
Un-Cruise Adventures is perhaps the most popular small cruise line that travels in Alaskan waters. Their hiring practices and ships mirror those of the larger ocean liners, but the atmosphere is more intimate.
A number of small Alaskan cruise outfitters can be found online using Google.