Cruise Director Jobs
The cruise director is in charge of cruise ship entertainment and staff members. Although, being a cruise director is much more complex than just running the entertainment department, this small description is a good way to describe a crucial job onboard the ship.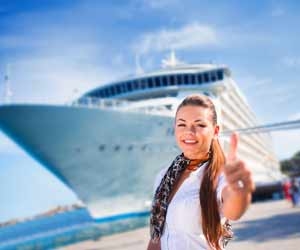 The following are just a few of the responsibilities of a cruise director working onboard a major cruise line.
Cruise directors organize entertainment, put together shows, perform, attend other cruise performances and rehearsals and work with choreographers and entertainers. They oversee the development of entertainment programs and ensure that all aspects of cruise ship entertainment (including lectures) go smoothly. This includes a variety of tasks like working directly with AV crews and managers to ensure lighting, sound and any technological aspects are ready for the ship's performances. Their responsibilities also include some administration work, which can entail budgets, billing and scheduling. Cruise directors are often considered the face of the cruise ship's entertainment and directors are almost always present at social functions onboard. Needless to say, the cruise director is a social and outgoing person.
Job Requirements
It is very unlikely that a cruise director would be hired without any previous work experience on a cruise ship as they most commonly work their way up from other entertainment or activity staff positions onboard. Cruise directors often start out as assistant directors, a position that primes them for the responsibilities and work schedules of a cruise director.
While each cruise line looks for different qualities in an entertainment director, they are all: talented, outgoing, social people, with experience in entertainment.
The best way to learn about becoming a cruise ship director is to begin working on a ship as an entertainer, assistant cruise director or activity staff member.
Salary
The cruise director is among the most visible aboard the ship. While salaries vary depending on the cruise line and experience, not only do cruise directors have a great deal of responsibility and fun, but they can also earn thousands of dollars a month for their hard work. A cruise director salary might be anywhere from $3,000 – $7,000 a month.  Not bad if you love the limelight, people, and a good margarita after a long day.