Cruise Line Stage Manager Jobs
Cruise ship stage mangers work closely with ship disc jockeys and entertainment staff. Sometimes cruise lines hire directly to fill these positions, but there are a number of concessionaires and staffing agencies that work on behalf of cruise lines too.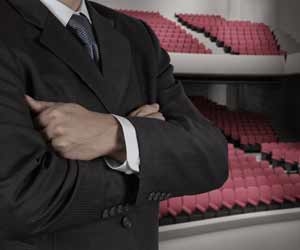 The main responsibilities of stage managers include producing the music and providing light and sound for onboard entertainers. Stage managers or 'producers' also work directly with the cruise director and assistant directors on entertainment schedules and rehearsals. Stage managers are likely to be present wherever light, music and sound is required for performances although on occasion, disc jockeys and audiovisual crews who work under the stage manager will handle performances instead. The number of tasks a stage manager is responsible for varies extensively from ship to ship.
Light and sound operations are largely technical, especially with the trend toward more current technologies on cruise ships. Cruise lines prefer to work with someone who has experience running a mixing board for musical groups, as well as someone who has professional theater experience. Having a diverse work experience as a member of an audiovisual team for onstage performances, as a disc jockey or any other sound and lighting work experience will increase your chances of being hired as a stage manager on a cruise ship. Most stage managers have cruise ship experience as well and a large number of current cruise ship stage mangers are disc jockeys and tech team members who have worked their way up. This position isn't likely to be filled by an entry-level applicant. Most of the work is done in the evenings, although a great deal of work is done before the ship embarks during rehearsals and performance planning. On days where the ship is at sea, a stage manager will likely be more busy since onboard entertainment is more common during itinerary days at sea.
New cruise ships have computerized mixing boards and companies have implemented a growing trend in purchasing state-of-the-art electronic equipment. A stage manager will be expected to know how to use equipment including: set up, break down, trouble shooting, and standard use. If audio and sound engineer jobs and similar opportunities are of interest then check out our Film and Music section too.
Stage managers are usually hired for longer contracts. Three to six month contracts are a good ballpark average for cruise ship stage managers. Salary will vary as well, depending on experience in the industry and the cruise line that is hiring. Some stage managers will make as much as $1,800 – $2,500 a month.