Cruise Line Shore Excursion Managers
Many U.S. citizens are hired as shore excursion or tour managers (hereafter, "shorex") who may be part of the entertainment department, depending upon the company.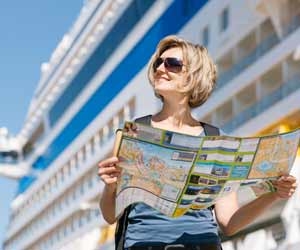 These positions are rated as some of the most difficult, stressful jobs on the vessel, yet they are also the most rewarding. Almost all cruise lines offer prearranged tours to their passengers in every port of call. It is the shorex's job to operate this program. This includes presentation of port information and tour descriptions, tour sales, tour dispatch, troubleshooting, and accounting. Superior public speaking skills are a must, and experience in tourism is expected. Cruise lines usually require applicants to have a college degree. Contracts vary and pay is usually based on salary.

This position is unique to all others on board because the shorex works with people on land, especially tour operators and bus companies. In effect, the shorex office is completely independent from other departments on the ship, because it coordinates with people off the ship. A shorex must also willingly take responsibility for what happens ashore and be able to placate irate passengers. These positions are usually salaried, with contracts negotiable.