Cruise Ship Lecturer Jobs
Lecturers are popular positions onboard a cruise ship. Their responsibilities vary from giving port of call shopping talks, to providing interesting information regarding the immediate area and special interest lectures catered toward an onboard demographic.
Lecturers who provide port of call shopping talks are very popular positions in the Caribbean.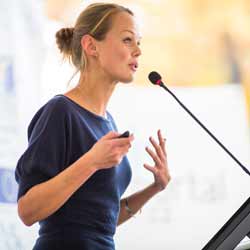 They help maximize a passenger's time off the ship at a port of call by highlighting some of the best shopping and retail opportunities available for passengers. They will often provide samples for passengers to examine ahead of time, while giving talks on the company or products that will be available. While ultimately lecturers of this kind are trying to increase the number of purchases made off the ship for the companies represented, they also have the responsibility of helping passengers enjoy shopping while off the ship. This includes providing tips to passengers on the ship as well as providing opinions on stores and shopping in the area.
Destination lecturers will provide passengers with interesting information about the port of call. This includes providing passengers with information on cultural history, interesting sites to see while off the ship and any other pertinent information. Sometimes destination lecturers will talk about popular activities and local wildlife, but they almost always discuss interesting historical and site seeing aspects of the area nearby. They will often accompany tours off the ship as well.
Special interest lecturers will often give talks and presentations while the ship is sailing. They often provide information on something related to the cruise.
For example if the cruise is a leadership cruise the lecturer might give a presentation on leadership skills. This is just one example of a special interest lecturer. Really, lecturers of this kind give talks and presentations on a number of subject matters depending on the ship and the professional experience of that lecturer.
Special interest lecturers tend to be on shorter contracts than port of call shopping or destination lecturers, although it wouldn't be uncommon for lecturers on a ship to encompass all of these responsibilities.
The best cruise ship lecturers are those with superior public speaking skills and sales training. Port lecturers must be, above all, enthusiastic and credible. A thorough knowledge of the Caribbean is also helpful, where port of call lecturers are most common. Contracts vary and pay is usually salary based, an amount that varies based on experience and cruise line, plus commission on sales made while passengers are off the ship.