Cruise Line Naturalist Jobs
Naturalists act in a similar way to cruise ship lecturers although there are some important distinctions. Lecturers, especially on Caribbean cruises, focus heavily on shopping centers while destination lecturers focus on special interest pieces for passengers onboard.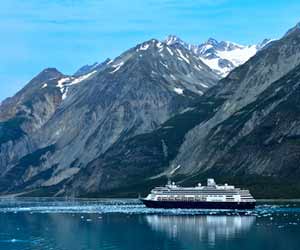 Naturalists focus on subjects pertinent to the region that are most likely relatable to nature and would never be hired to increase shopping sales some lecturers. For example, it would be common for a naturalist to give speeches on the cultural history of Mexico while cruising near Puerto Vallarta, Acapulco or Cab San Lucas on a Mexican cruise. This information would be valuable for passengers and would likely increase their enjoyment in learning about the area they are visiting. Another example would be a naturalist focusing on local wildlife, giving presentations on the oceanic animals and special species you might see on a hike while on shore. Another naturalist might present on the architecture of European buildings while on a cruise to Greece. Although naturalists tend to focus on areas of interest such as science, history, art, culture, language, wildlife, food and other interesting aspects of the natural world, they are often specialists in other areas that apply to cruise ship clientele.
The job of a cruise ship naturalist will depend greatly on the itinerary of the cruise. A specialist in whale migrations on the eastern coast of South America would have a hard time keeping Alaskan cruise passengers interested. Therefore, naturalists tend to focus on a subject matter that is relatable to cruises in a specific region.
If you are a parks naturalist, working on a cruise ship might be an excellent way to spend a working vacation. Naturalists work on contracts that can range from a few cruises, to several months.
Applicants with exceptional presentation skills and expertise on a region or topic should contact all the companies that cruise in that region. Naturalists are also considered part of the social staff, so enthusiastic, extroverted personalities are preferred. Naturalists can literally create a demand for themselves by showing cruise lines how their knowledge can enhance the passengers' appreciation for the itinerary. See also our page about dude ranch naturalist employment. Naturalist salaries are negotiable. Some will work for the opportunity to travel for free, while others are paid for their services. A naturalist can make anywhere from $900 – $2,000 a month depending on their contract and the cruise line they work with.