Cruise Ship Photographer Jobs
Photographers are some of the busiest crew members onboard the vessel.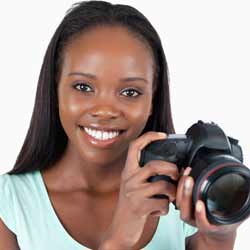 In addition to capturing special and beautiful moments onboard a cruise ship (sunsets, bands, ship events, casino nights, contests, guest speakers, happy passengers, general ship photography and relaxing patrons) photographers must also politely force people to get their picture taken. In addition, photographers must also "talk up" the photos to passengers, acting as a salesperson of sorts while onboard. Candid photography is never easy. A special moment can be lost due to bad light, an extra person in the photo or any number of photography-related problems. Photographers hired to attend specific events might have a hard time returning with special and high quality photos. Therefore, while it might seem like an enjoyable and fun-loving job onboard a cruise ship, it can also be demanding and tricky.
Pay for photographers on a cruise ship is almost entirely commissioned based. Which means, the quality of the photo and how eager passengers are to purchase pictures are factors that determine pay. It is for this reason successful photographers are those that up-sell their photos and encourage passengers. As you can imagine getting people excited to take pictures and excited about purchasing pictures suits an extroverted personality. A number of the most successful cruise ship photographers are those that have a lot of energy and like speaking with, and encouraging the ship's clientele.
Most cruise lines use concessionaires to fill photographer jobs on board. Applicants must have experience in photography, photo processing, and sales. Most applicants are also asked to produce some sort of portfolio outlining and giving examples of their experiences in photography. Landscape and portrait photographers are some of the most common cruise ship photographers. TIP: Also see JobMonkey's Photography Jobs section.
The hours a cruise ship photographer is likely to work depends largely on how fast the job is done and the rate with which they can obtain a large number of pictures. As a general rule, photographers are asked to attend certain events but otherwise set their own schedule.
As a ballpark, photographers on a cruise ship may earn $2,000 – $2,200 a month.